Veneers in Turkey, Antalya : Prices, Pros, Cons and 5* Reviews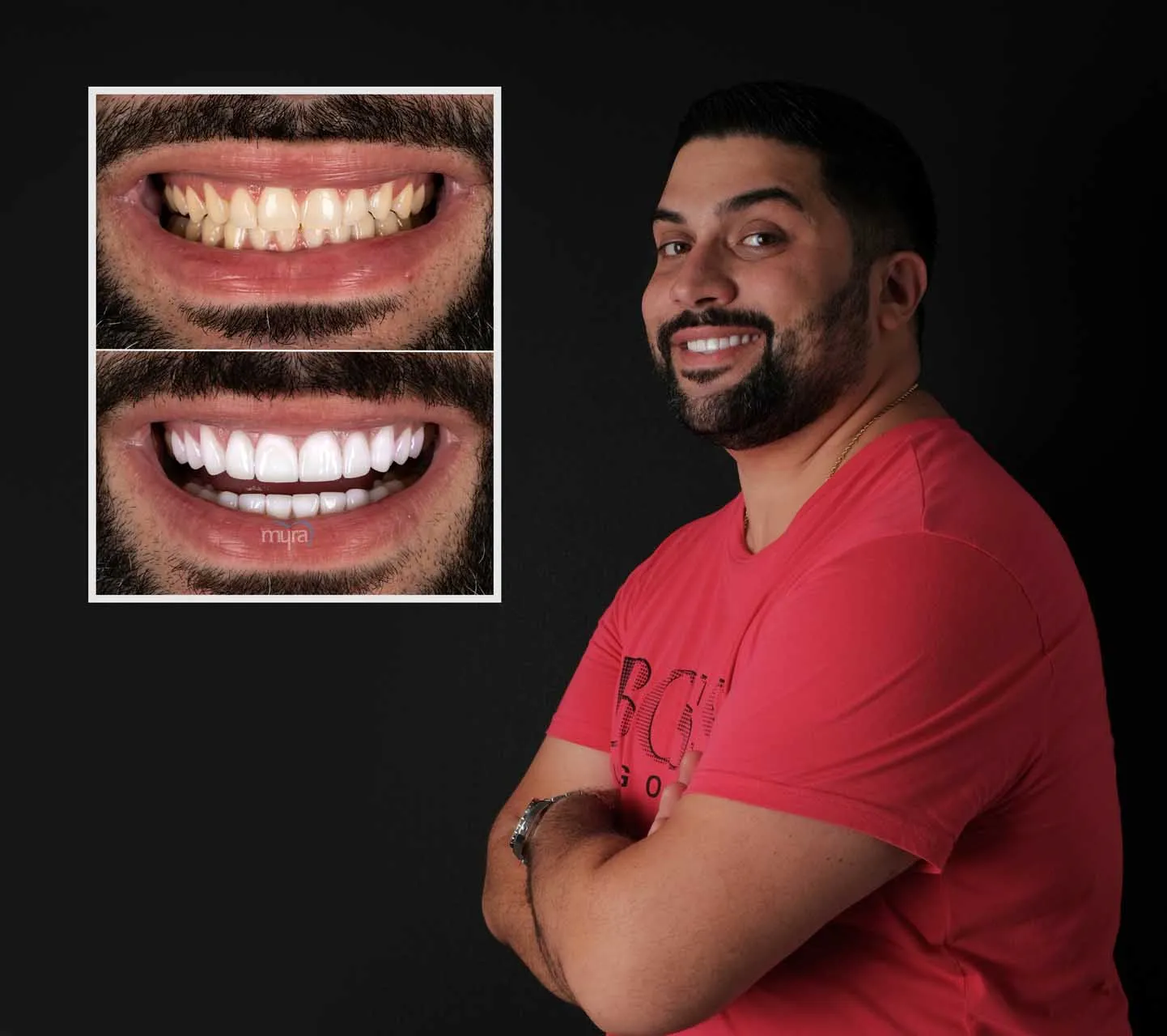 Veneers in Turkey are performed using many different techniques. Dental veneers Turkey prices are quite affordable. The restoration of teeth lost due to some reasons or made from different materials for aesthetic purposes is called dental veneers . In cases where the loss of substance caused by caries or trauma cannot be repaired by filling, there are various treatment options such as aesthetically changing the appearance of the teeth, replacing the lost teeth or covering the teeth for placeholder support.
For the dental veneer procedure, some teeth may need to be abraded in some cases. The amount of abrasion varies according to the type of veneer prosthesis and aesthetic expectation. In some applications, veneers can be made without the need to wear teeth. The materials used for the veneer can be metal or porcelain. Veneer material is made of ceramic over metal or aesthetically active materials and a natural appearance is provided. The use of precious metals and alloys for infrastructure support will reduce the effect against allergic reactions. Your dentist will advise you on the veneer that is suitable for your overall health and expectations. Veneers are applied with adhesives that do not damage the tissue in the tooth. In implant overlays, it can be applied with screws except for gluing.
5* reviews - Best Veneers in Turkey
Dental veneers are a special treatment that has been developed and designed to help maintain the functionality of your damaged or diseased teeth. Dental veneers are used in restorative dentistry to restore a broken and damaged tooth. There are numerous different types with advantages and disadvantages. In short, it is an artificial head shaped like a tooth. It is applied by using a particular tooth to reconstruct its size, shape, appearance and increase functionality, or by using it as a bridge of teeth next to the missing area to address the lack of teeth.
When the Veneer is glued, it completely closes the visible part of the tooth. It looks like a natural tooth. The Ideal duration of use is between 5-10 years. With good oral care and regular dentist checks, the lifespan can be extended. Certain diseases, such as amylogenesis imperfecta and dentin genesis imperfecta, or chronic conditions, such as Fluorosis, weaken tooth enamel and dentine. In such cases, dental veneers can be applied. Your dentist first examines your teeth that require veneer. The process is determined for the operations to be performed according to the current indication as a result of the examination. The dental veneer procedure has become painless and simple thanks to modern technologies and techniques.
For the treatment of lost tissue or aesthetic defect in the natural structure of the tooth, artificial organs that resemble the natural structure of the tooth and are created in the laboratory are called dental veneer.
Especially in the case of front teeth, the dental veneer to be made to look natural is asked. An artificial tooth image makes a negative impression on the other person as much as it bothers the person. The first problem is the difference in color and the fact that tooth forms are incompatible with natural teeth.
WHEN VENEERS ARE APPLIED?
Dental veneers must be applied in the following situations ; Excessive loss of tissue in the tooth (such as bruises, fractures due to trauma ) cannot be repaired with filling Large or common restoration involving structural weakening of the tooth Tooth discolorations that disrupt the aesthetic image on the tooth Crooked or gap between teeth (diestama) that cannot be corrected with orthodontic treatment) Splinting of mobile teeth Correction of contours or angles of teeth Cases where the closing relationships of teeth need to be reconstruction It is applied on teeth with root canal treatment that require post treatment.
How is Dental Veneer performed?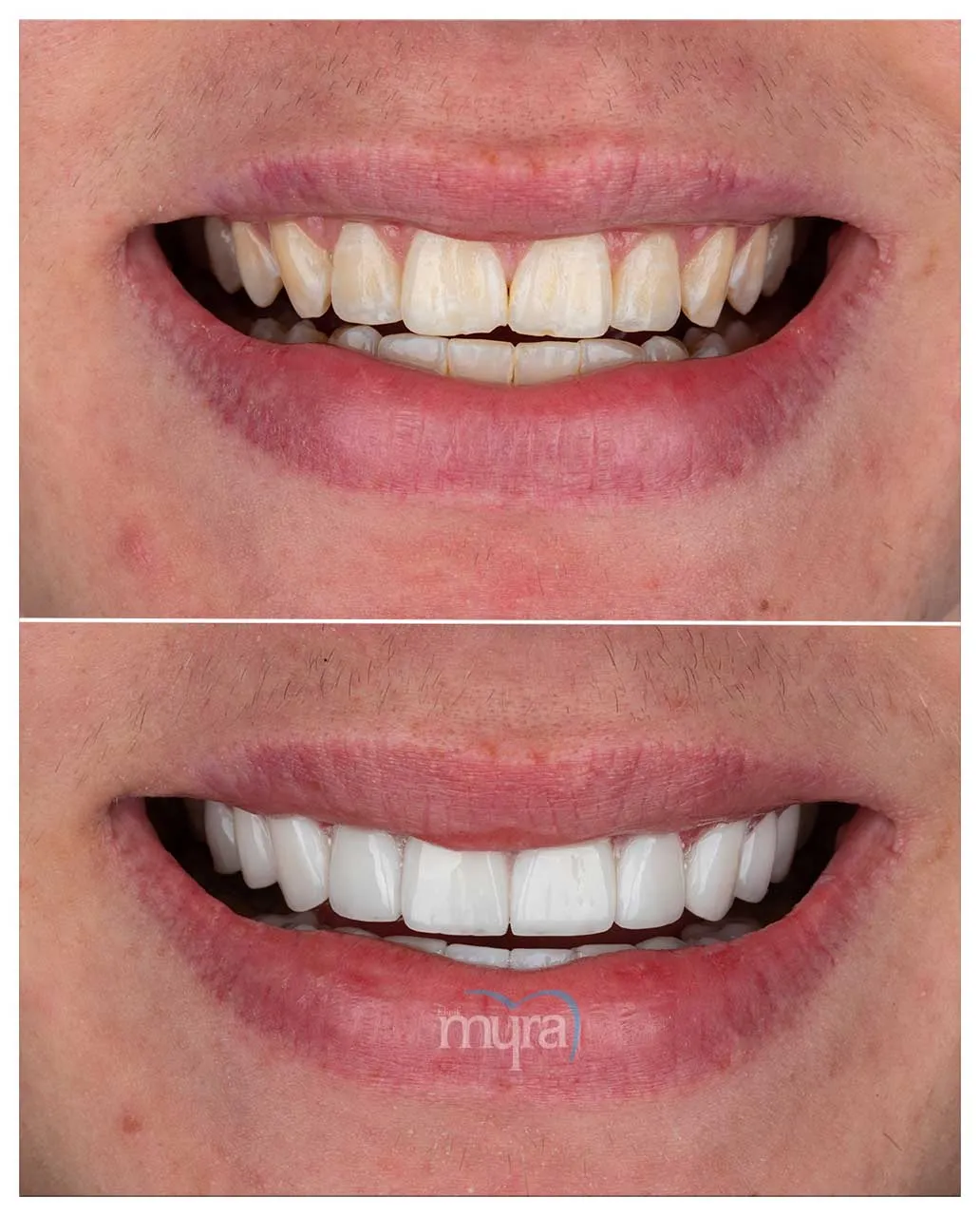 Dental veneer treatment is done for two reasons. The first of these is the treatment of teeth with excessive substance loss, and the second is the correction of tooth deficiencies. Several sessions of treatment are required for teeth to be covered. In the first session, the tooth of the patient is brought to the desired size by thinning a little from each point. A temporary veneer is then applied to the patient to improve the thinned gums. The patient is invited to the second session after waiting a few days with these temporary veneers. In the second session, the veneers metal infrastructure is prepared and rehearsed. Metals are adjusted according to the tooth and the second session is completed. In the third and last session, the prepared dental veneers are made suitable for the patient's mouth and adhered. After the adhesion process, it is waited for 1 week for the patient to get used to this situation. After using the patient veneers for a week, any possible complaints are eliminated and treatment is completed. After the dental veneers treatment is over, you should avoid extreme hot and cold foods. Foods that are difficult to chew and stick can damage teeth for a while. It is also useful to stay away from hard and shelled foods for a while. Veneer teeth usually have a lifespan of up to 10 years. However, you can extend this period more if you follow the dentist's instructions. Patient's wishes and complaints are determined before treatment. Treatment method and method of application are determined by the doctor. Necessary information should be given about when to take measurements and veneer made according to the method.
TYPES OF DENTAL VENEERS
One of the most applied treatment methods in aesthetic tooth making is the dental veneer method. It is applied for reasons such as spaced teeth, distorted colors that cannot be corrected. Dental veneers types are divided into zirconium veneer, porcelain lamina veneer, impress veneer. Among the types of dental veneers in Turkey, zirconium dental veneers are preferred because of their ease of application and price. Zirconium veneer is easier compared to other types of dental veneer. Because they are produced without errors, there is no problem during the treatment. Zirconium dental veneers, both long-lasting and aesthetic, are a good treatment option for patients with dental problems. Veneers usually have persistence between 7 and 15 years. At the end of this period, veneers should be replaced. Although dental veneers are resistant to stains, foods and beverages that cause stains should be avoided. Other varieties are as follows: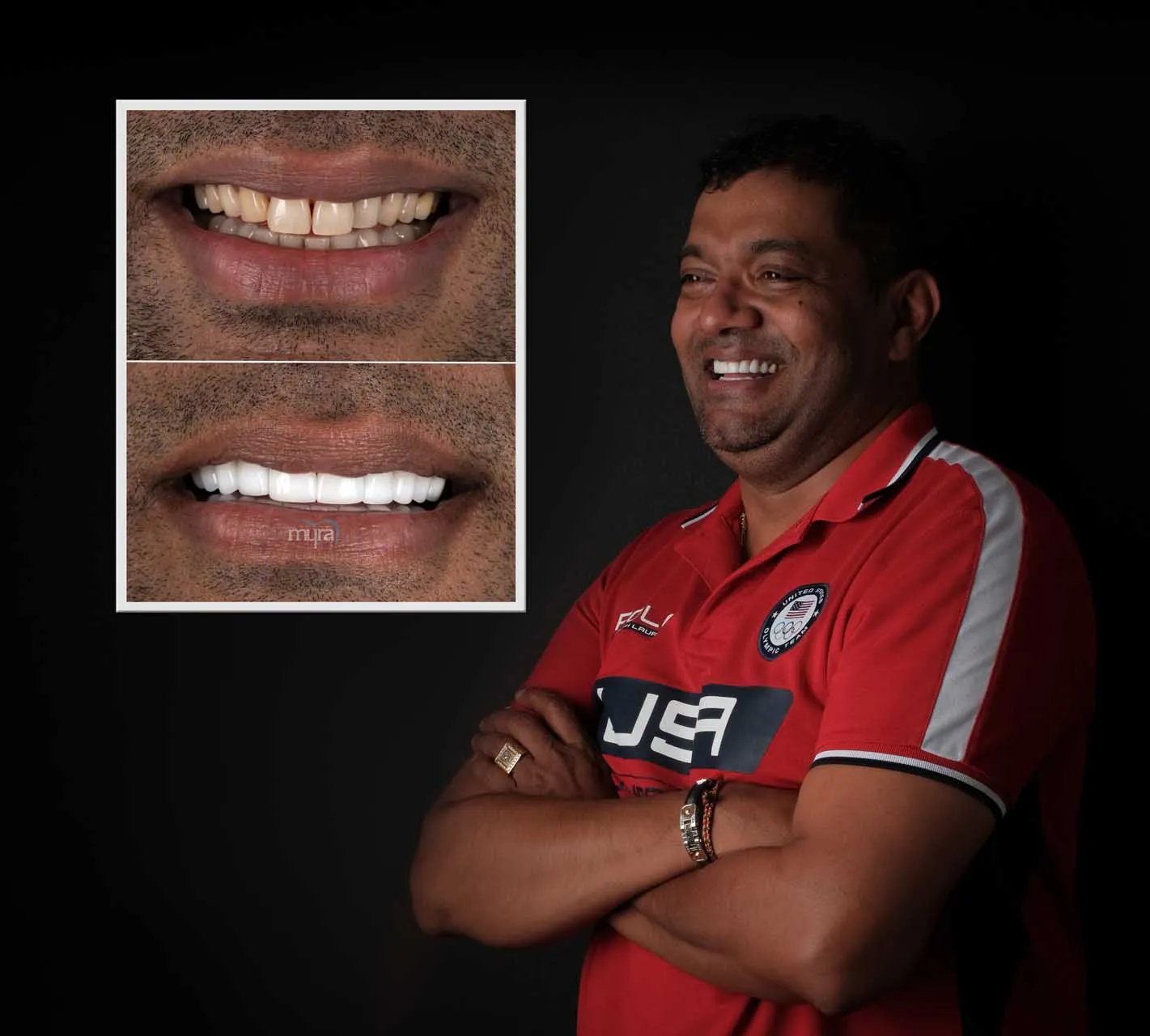 Porcelain Laminate Veneer: It is a layer of porcelain leaf that is adhered to the tooth by eroding 0,3- 0,7 mm. The porcelain laminate prepared very fine in the desired color and form does not contain veneer metal. Porcelain laminates that resist breakage; it allows light to pass into the tooth. Today, laminate veneers are used as a conservative method in all patients with color, broken, malformed or mild sequence disorder.
Zirconium Veneer: zirconium element is a white metal found in nature. Because zirconium porcelain is as aesthetic as it can be used on the front teeth and as robust as it can be used on the back teeth, it is a type of veneer that is safely preferred by all dentists for dental veneer.
Metal-supported veneer: Metal- supported veneers are applied by placing metal alloy under porcelain during the construction phase of the tooth. It is suitable and durable to the tissue of the tooth. Metal- supported veneers made with the use of chromium cobalt or chromium nickel alloy are affected by the metal found under the porcelain laid on the metal. The metal in the substructure is dark at the level of the gum with a dull appearance because it does not pass the light. For this reason, metal- supported veneers are usually applied on the back teeth rather than aesthetically recommended on the front teeth.
Empress dental veneer: It is an application made directly on the tooth. To make this application, you must have a tooth. The teeth around which the application will be made are carved evenly and made ready for veneer and veneer is applied on it.
Porcelain dental veneers with metal.In this method, which has been used for many years, impressions are taken after shaving over the tooth. In the laboratory, wax is prepared for metal framework by modelling on impression technique and metal framework is prepared in such a way as to fit on the tooth. On the metal framework in the mouth, the dental technician applies the porcelain layer by layer with their special brushes and gives the form of the tooth. It adjusts the dental contacts with the teeth in the opposite jaw and completes the aesthetic appearance. The dentist checks the color and occlusion of the dental veneer prepared in the patient's mouth. If necessary corrections are available, veneer is ready to be inserted into the mouth. This procedure takes 6-10 working days.
Metal supported dental veneers are preferred because they are very durable veneers and their prices are appropriate. However, veneers containing metal are not much preferred today because of the need to make more cuts from the tooth to tolerate the color changes that occur at the edge of the gum and the thickness of the material.
Porcelain dental veneer with zirconium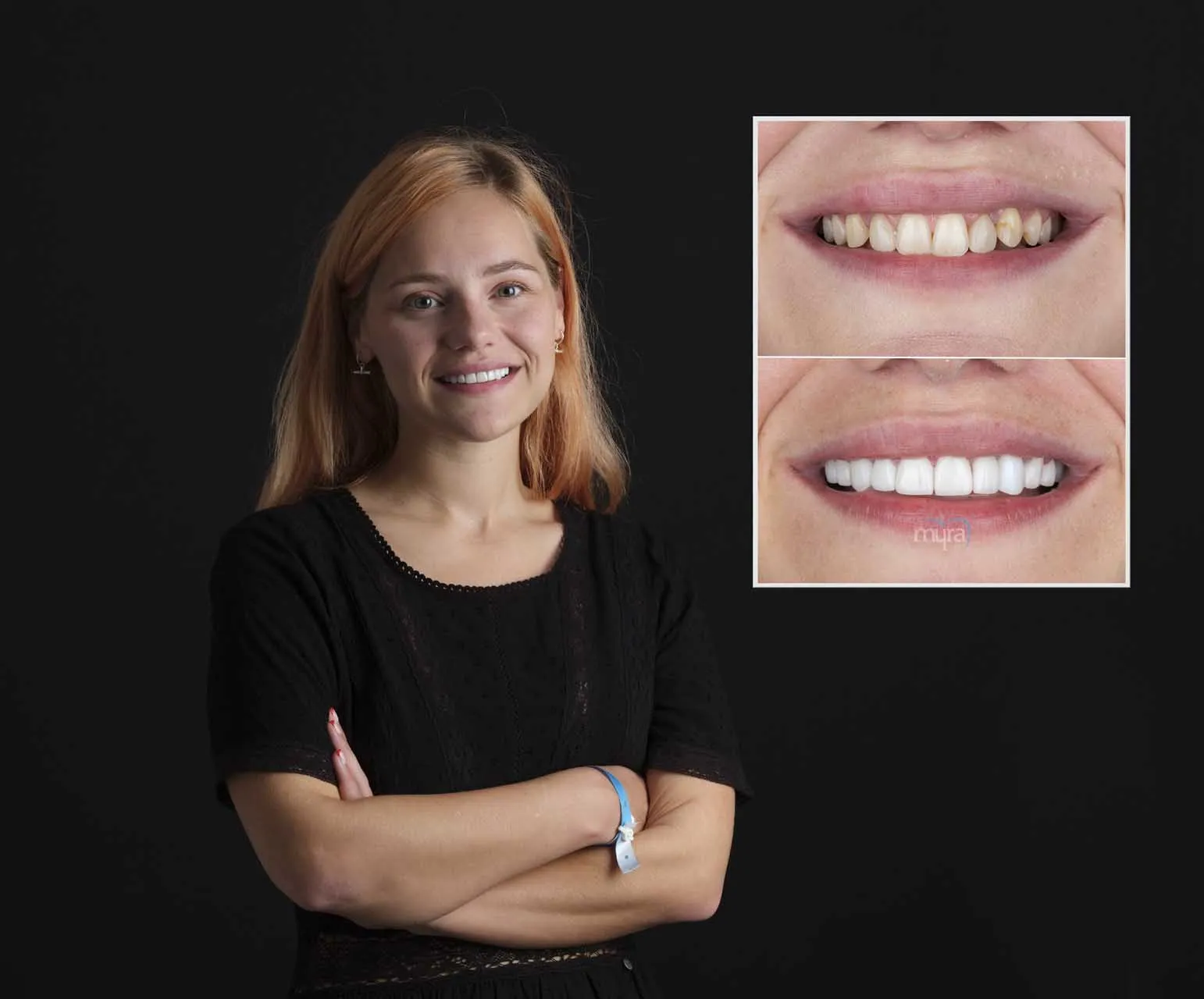 It is the veneer variety of choice for getting aesthetically satisfying results. Reflect the light like natural teeth and avoid gum recession and gums cause discoloration on the edge are just a few of the biggest advantages of the lack of.
Zirconium dental veneers produced by computer-aided CAD CAM systems as application technique are used successfully in veneers made on single teeth and in bridges made in case one or more teeth are missing. Since the material color is the same as the tooth color in the mouth, it is not necessary to use the opaque layer of the color covering as in metal veneers. For this reason, veneer can be applied by shaving less than the tooth to be made.
Zirconium veneers are fixed onto the teeth with special stabilizing cement. Porcelain veneers with zirconium applied on implant applications are the most preferred dental bridges and veneers today due to their biological compatibility. This procedure takes 5-7 working days.
Full ceramic empress dental veneer
They are the most aesthetically developed dental veneers that have strengthened porcelain in its substructure or are made entirely of reinforced porcelain as blocks. Such dental veneers do not have metal framework or zirconium framework as in other dental veneers.
Because the light permeability of the complete ceramic materials is very good and the closest permeability to the natural tooth, they give the closest aesthetic to the natural tooth. It does not produce gray coloration at the gum level. Less shaving is done on the tooth surface compared to zirconium or metal framework dental veneers. Therefore, the sensitivity of hot or cold is very low. No allergic reaction is observed. This procedure takes 3-5 working days.
What is the difference of zirconium dental veneer from other veneer methods?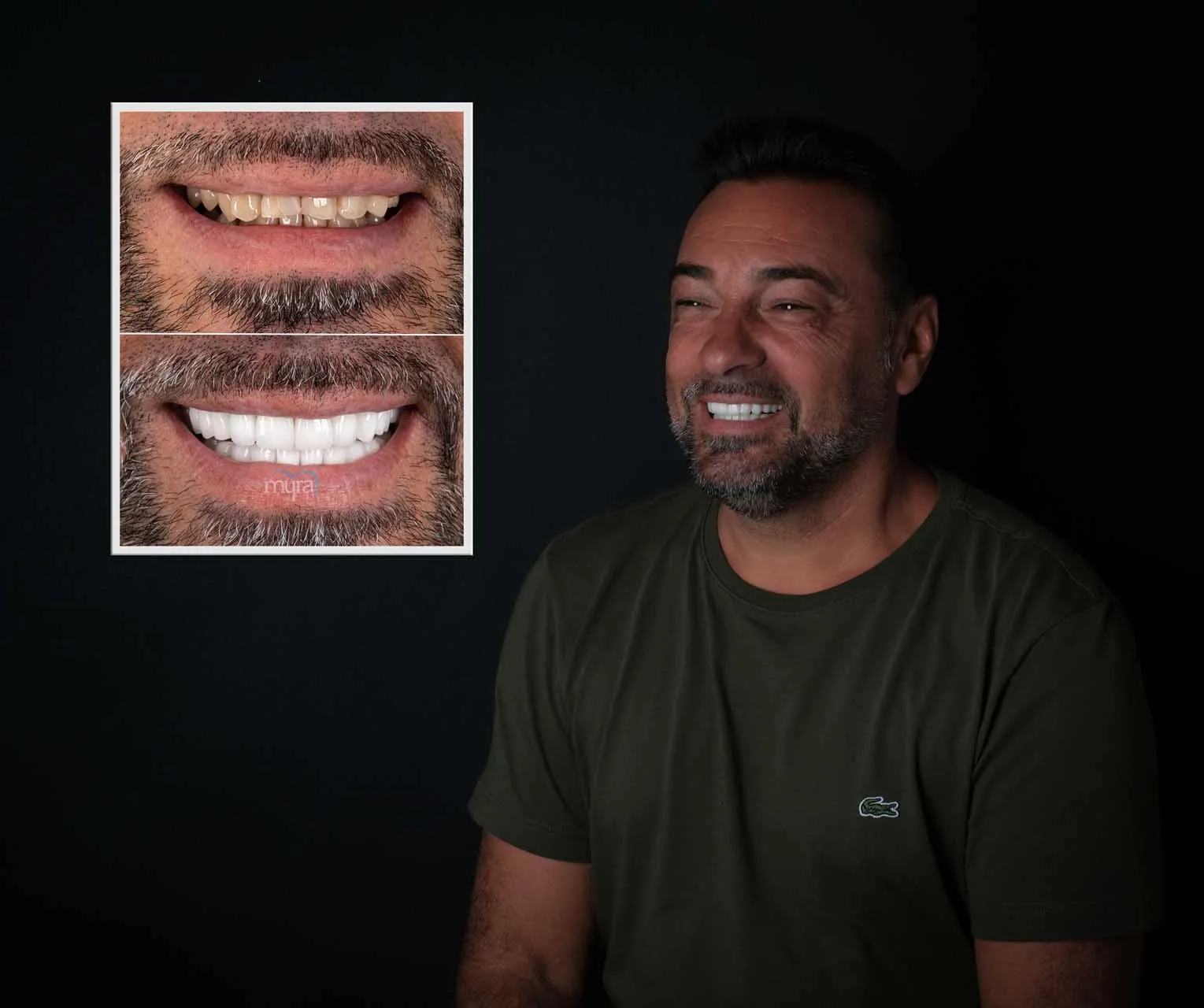 There are significant differences between metal-supported veneers, which are different dental veneers methods, and zirconium veneers. The prominent feature of metal supported porcelain teeth; it can be used as a bridge and durability in long toothless areas. For example, if you have more than 2 teeth and a bridge is planned, metal supported porcelains are preferred. This is because it can maintain solid structures and long-term resistance. Zirconium is actually a white metal and carries many features of the metal concept as an element. It is aesthetically superior and biocompatible. In terms of natural appearance, they have a better appearance than porcelain teeth. Dental Veneer can be applied in cases such as large substance losses due to caries occurring in the tooth, deep breaks and lack of teeth, need for pink aesthetics and dental aesthetics. After the veneer is made, the tooth arrangement is ensured and the patient performs chewing together with the mouth functions. Of course, factors like veneer feature, compatibility with natural tooth and not damaging the gum are very important. There are different veneer methods in dental veneer procedures in terms of costs, appearance and durability. Zirconium veneer is not allergic since it is a 99% tissue-friendly material. It is more advantageous in terms of general body health compared to metal-supported prostheses. Even though the cost seems to be more than porcelain tooth veneer, it will not be much when considering the long-term protection of your natural teeth. It is used in the area of dental veneers without metal support. When zirconia substance is combined with oxygen, it becomes quite hard and used in dentistry. Porcelain veneers do not fit snugly on the gums. There may be a gap between the tooth and the veneer. This can cause food debris to accumulate, natural teeth to rot, and odor to form in the mouth.
Veneers Treatment Process in Turkey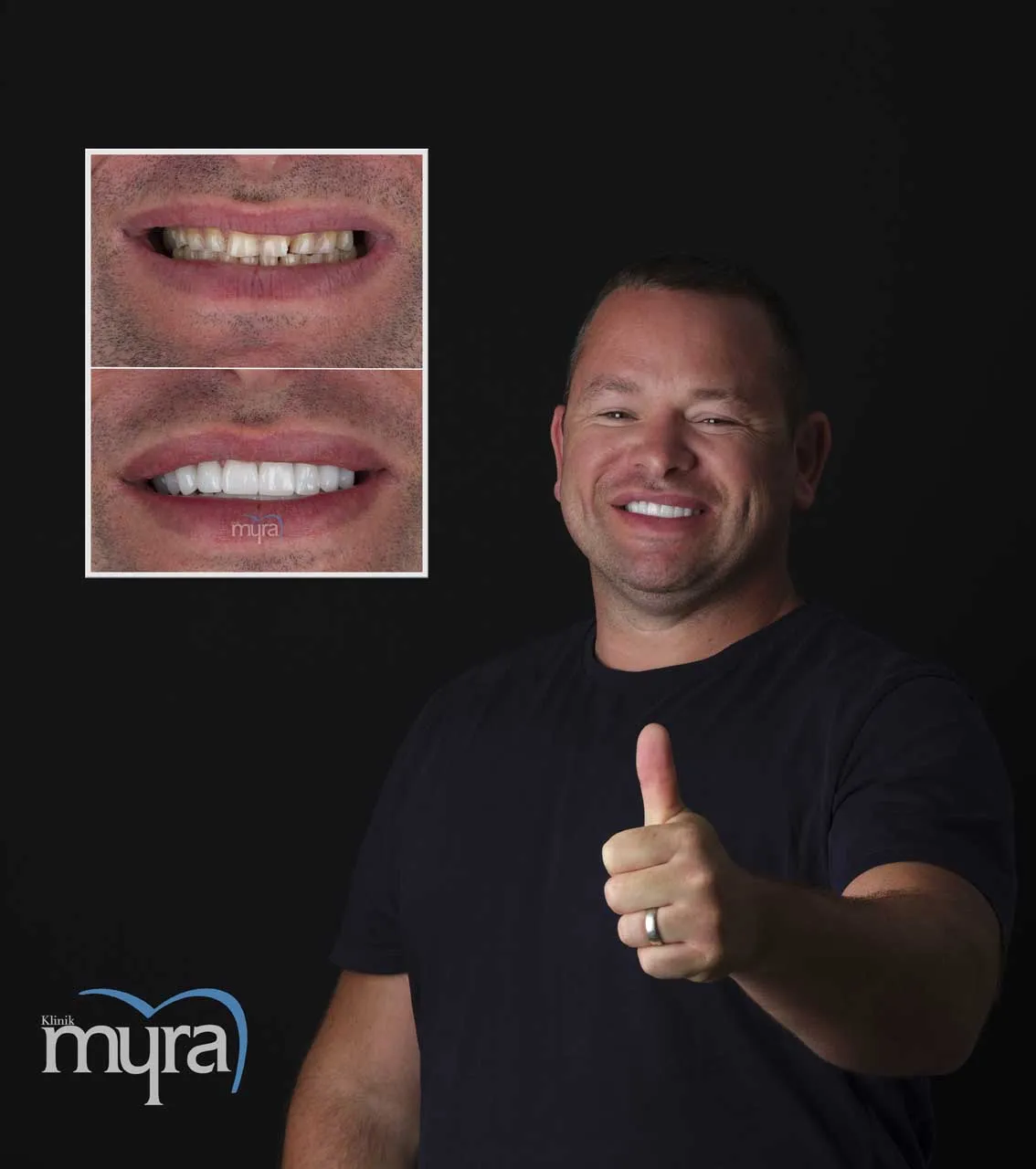 Some treatment methods are used due to the wearing of teeth over time, insufficient care or genetically lost teeth. Of course, before entering these treatment methods, dentists choose and apply the most suitable for patients by making healthy analyzes. Dental Veneer treatment is one of the most practical and effective treatment methods. Porcelain veneers, which are among the best dental veneer treatments, are dental and aesthetic works made of porcelain.
It is stated that they eliminate damage in patients with teeth with stained, improper shape, undesired color and size. This method of treatment is also preferred to correct the position of the teeth. The facets are suitable for almost all needs for changing the aesthetics of the teeth. The material used today is lithium desilicated and is more durable than traditional porcelain. Because it is more durable, it can be made in a variety of thicknesses, including extremely thin ones called contact lenses. One of the major developments in facets is the material, as well as products for bonding parts. Binding agents between the tooth and lithium desilicated are extremely effective and this is safer for dentists and patients. Recently, zirconium is also frequently preferred.
Zirconium is a mineral with a high degree of resistance and performance, so it is used in dentistry for both dental and dental veneers with excellent quality dental prostheses. Zirconium and porcelain are 100% biocompatible with oral cavity, oral mucosa and other tissues of the mouth. Therefore, there is no risk of allergies. Laminate Veneer Dental Treatment is the process of adhering a thin layer of porcelain to the front of the teeth by making a slight abrasion on the front of the teeth. The main reason why Laminate Veneer Treatment is preferred by patients is to gain an aesthetic appearance by extending the front teeth.
First of all, we bring you to our clinic with a free transfer from your hotel or airport. Then the examination process is carried out in detail by our specialists in the field. the free consultation process is carried out in the following order of steps:
Making treatment plan by taking panoromic veperiapical X-rays
Filling, root canal treatment and gum treatment in necessary cases
Preparation of the teeth by shaving
Taking impressions both of jaws
Making the same day temporary veneers
Laboratory stages
Trial stage
Fitting and bonding of the dental veneers in the mouth
All dental veneers materials type treatment procedures have the same steps. However, the duration and process of the laboratory stage are different.
Who is not suitable for dental veneer?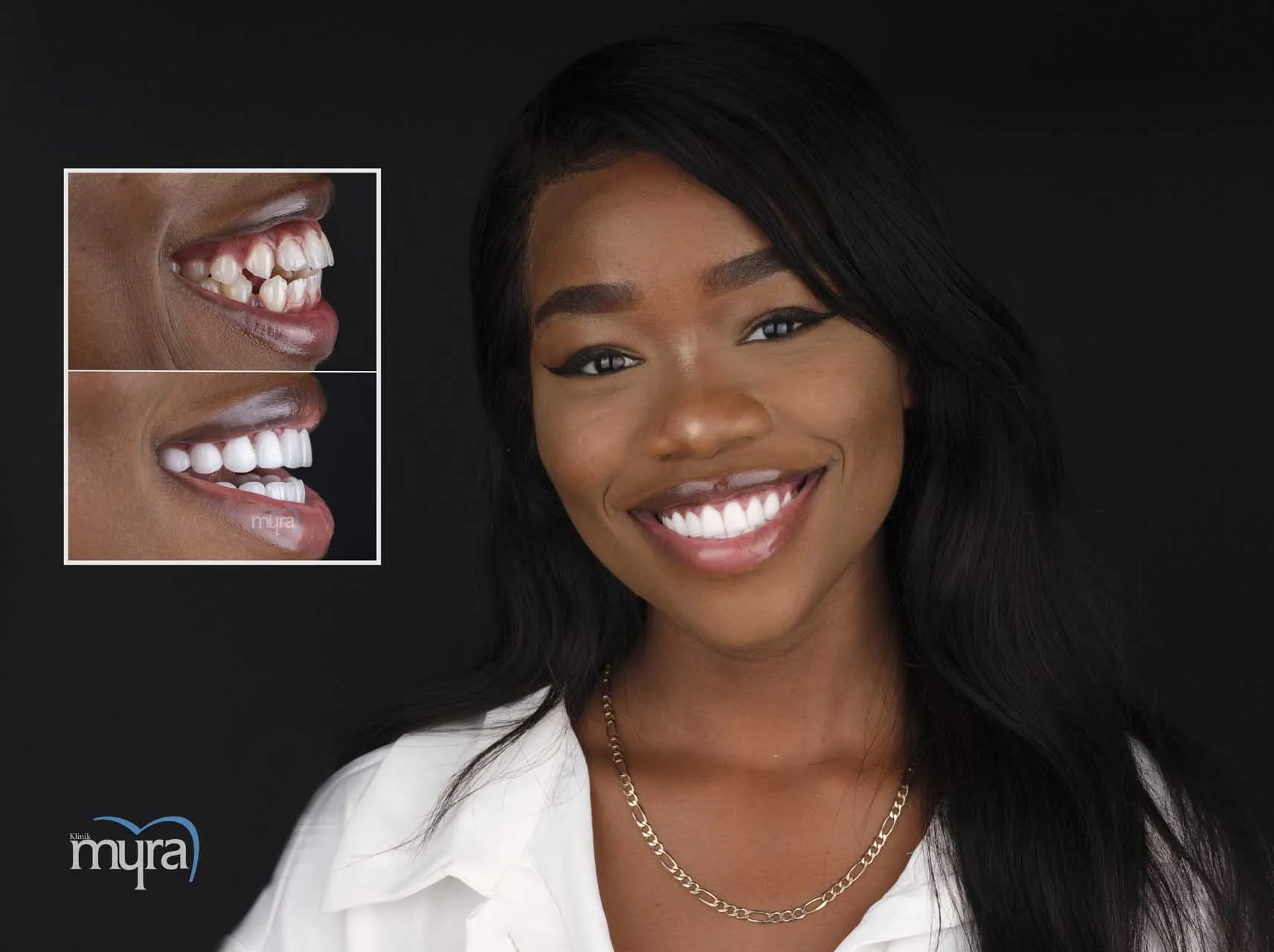 Dental veneer treatment is not recommended for patients with gum and psychological disorders. Serious problems occur in the dental structures of patients with gum disease and their teeth do not respond positively to the aesthetic procedure in case these problems are not treated. In addition, the patient may experience serious problems during the dental veneer procedure due to gum problems. Therefore, gum problems are treated first and then dental veneer is applied. It is not possible to apply laminate veneer without solving patient gum problems. Dental veneers are not applied to the teeth of patients with psychological disorders. For psychological reasons, the patient's constant bite of the pen, spoon, plastic materials and all kinds of hard objects with his mouth, serious damage to dental veneers. For this reason, these patients are asked to resolve these problems first. However, if the patient has the habit of eating nails constantly, this poses a risk for psychological reasons and the patient is asked to overcome this problem. In the event that all these psychological factors are eliminated, dental veneer can be applied easily to each patient. Patients who have problems tightening their teeth during sleep at night, people with jaw structure disorders, people with nail eating problems, people with gum problems, patients who are not suitable for dental veneer method. In such cases, orthodontic treatment processes and the use of night plaques to eliminate problems is provided, dental veneer treatment is passed. After the treatment, the use of night plaque is provided during the period determined by the doctor's advice.
Who is suitable for dental veneer?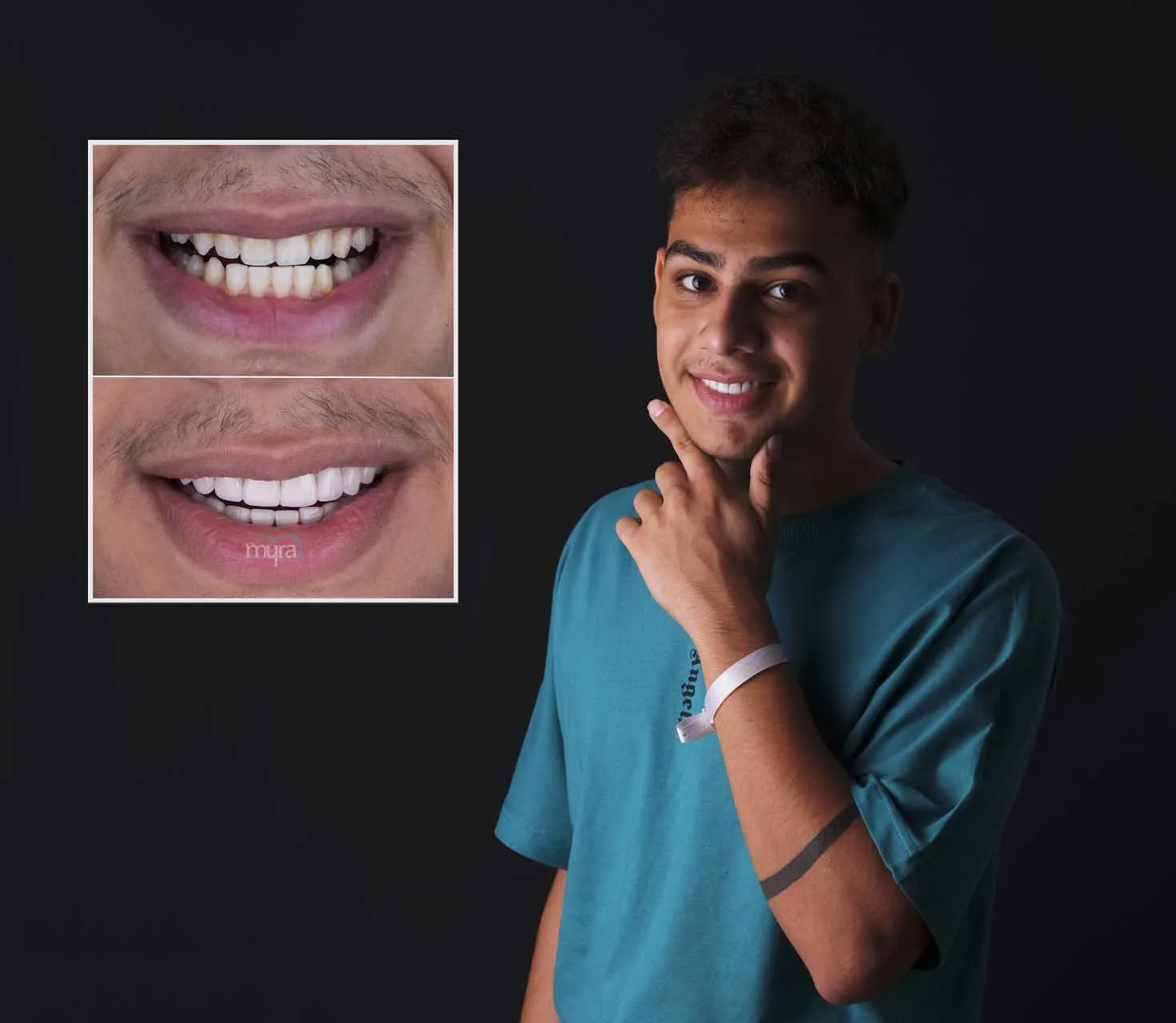 Metal supported porcelain veneers can be applied to all teeth. They are preferred especially in the back teeth with high chewing force. They are used in damaged teeth, especially after root canal treatment or after large fillings, as they are resistant to strength. Another reason for preference is that they are more economical than other veneer types. Although gum fit is not as ideal as zirconium veneers, they are still preferred in posterior tooth deficiencies. There is no age or gender discrimination in laminated veneer treatment. It can be easily applied to any individual who needs a procedure. Every individual who is not satisfied with their teeth can apply for this procedure and obtain a new and more aesthetic appearance.
Will dental veneers change color in the future?
All dental veners have porcelain surfaces. It does not cause plaque accumulation due to its smooth and slippery porcelain surface and is not affected by colorants such as coffee,tea and cigarettes. The color remains constant.
How can I clean dental veneers?
Dental veneers are also brushed 2 times a day like teeth. Flossing to clean between dental veneers and superfloss for toothless areas (such as under bridge) should be used every day, preferably just before sleeping. When the dentist checks regularly every 6 months, the problems that may already occur are foreseen and precautions are taken.
How long can I use dental veneers?
When regular checkups are performed, dental veneers can be used for a long time when the individual is doing very well in oral care. Especially in individuals who have clenching teeth and bruxism, controls are very important. A clear time cannot be given with the duration of use because the life of the dental veneers varies depending on the individual's cleanliness, lack of bad habits. Dental veneers, which are properly prepared to fit with the teeth and gums, extend their lifetime if the recommended care recommendations are followed.
How much is shaving from my teeth for dental veneer?
The natural tooth surface should be shaved according to the selected material so that dental veneers do not appear rough and can provide natural dental relationships. At least one tooth is shaving in full ceramic dental veneers and approximately 0.5-1 mm is shaving in the teeth. In zirconium dental veneers,approximately 1-1.5 mm from the tooth surface is shaved. In Metal dental veneers, approximately 1.5-2 mm shaving is done on the teeth. The amounts given may vary according to the location and shape of the individual's natural teeth.
Do I feel pain during the procedures?
Shaving procedures are performed under local anesthesia and then a temporary veneers in the color of the teeth is done to prevent hot and cold tingling. A very small number of patients experience a slight tingling, and the process is completed without any difficulty.
Do dental veneers have a fracture or remove out problem?
Ideally prepared dental veneers break or remove out problem does not occur. However, cracking can be seen in reverse and breaking at an excess force. Dental veneer may fall if decay begins in the tooth below the dental veneer over time and the structure of the tooth has deteriorated. In such cases, the tooth is treated if possible and the dental veneer is fixed again.
Can dental veneer be applied in those who are allergic to metal?
Zirconium and full ceramic dental veneers do not contain metal in the content of the metal allergy does not cause. It can be used safely in individuals with metal allergies.
Dental Veneers Benefits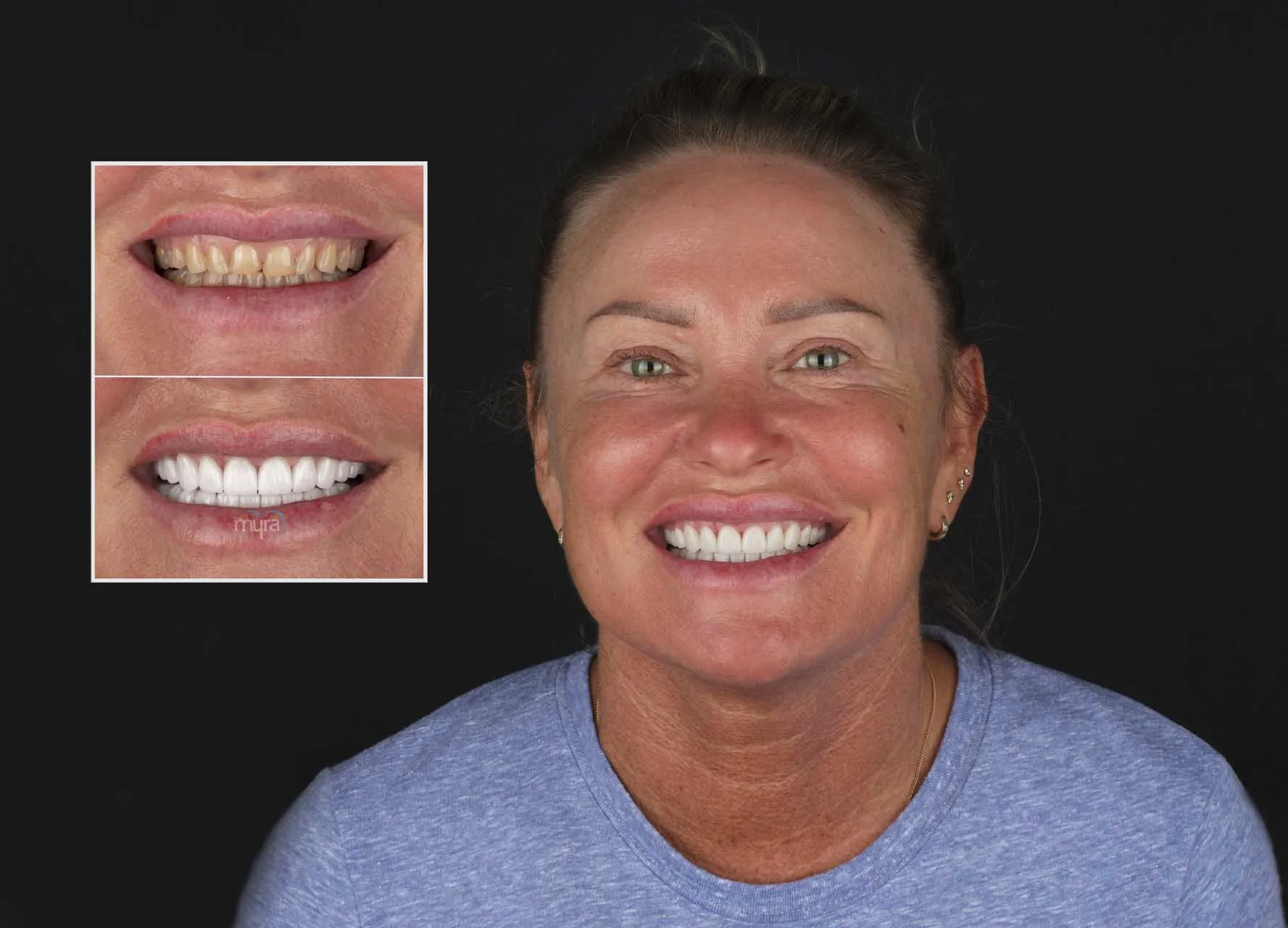 Porcelain with metal infrastructure is the most durable and widely used infrastructure material. When the necessary sensitivity is shown, the aesthetics are satisfactory and economical. Zirconia dental veneer has an insulating feature. This feature prevents hot and cold sensitivity. Since it has a translucent structure, zirconium helps to create an aesthetic look away from artificiality.
All metal supported porcelains have a slightly opaque matte caused by a gray metal. For this reason, zirconium is recommended as the most ideal veneer method for anterior teeth. Perfectly presented to those who want to have a tooth with aesthetic features, zirconium teeth are advantageous and stand out with their natural appearance, which is their first and most important feature. In addition, zirconium teeth are insulating due to the feature of the zirconium element and hot-cold sensitivity does not occur. One of the biggest advantages of porcelain veneers is that they are very long lasting. All dental veneers are tough and durable. But porcelain veneers have slightly superior properties.
Dental Veneer Risks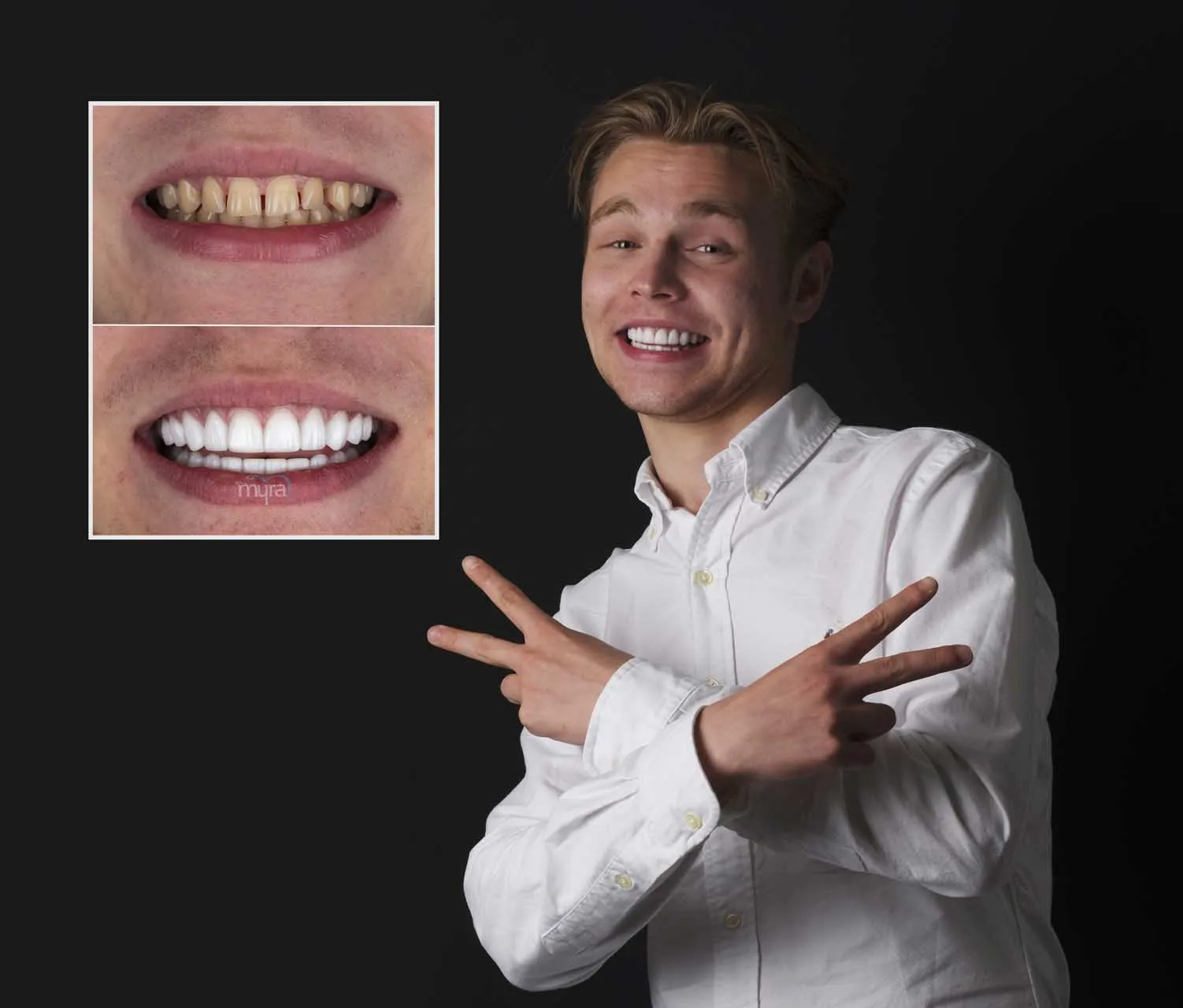 Dental veneers are not allergic thanks to their biocompatibility. Some people in the community are allergic to metal. When these people want to have a tooth veneer, zirconium veneer should be done. Otherwise, it can face many tooth and gum diseases such as inflammation of the gums, gingival recession, bleeding gums, gum swelling, redness, etc. During the treatment, you will have no problems as temporary veneers will be applied. These veneers are not as strong as permanent veneers, so you need to eat hard foods carefully. However, they function as normal veneers in terms of image.
As with all medical procedures, there is some dental veneer risks associated with dental veneers, although they are quite rare and minor. Due to enamel removal, permanent tooth sensitivity is the greatest risk, especially in cold or hot weather. If the sensitivity lasts longer than 3 to 6 months, this may indicate an underlying problem, such as leaking toothpaste or exposure to a nerve.
When the enamel is removed, there is a slight potential for the underlying teeth to be damaged. On the other hand, an improperly-fitting veneer can alter your bite's fit, which can cause pain, tooth sensitivity, or jaw pain and bruxism while eating. This requires a second round of enamel rounds. If you had extensive erosion before removing it for the first time, it may not be sufficient for a second set of veneers. Instead, you will need to consider a different restoration process, such as dental crown or cosmetic jointing. When discussing your first veneer set, you should go ahead and explore the possibilities for future replacement.
Dental Veneer in Turkey
Dental veneer is the process that is performed to protect the tooth on the tooth, which can be used almost like a natural tooth today. Veneer treatment, which is done by gluing on the teeth, is performed successfully in Turkey. Veneer is often recommended on teeth with broken, bruised, worn or color problems. Dental veneer prices in Turkey are cheaper than in other countries. Because Dental veneer in Turkey is cheap and high quality, patients from many countries go to Turkey to have dental veneer.
Veneers Turkey Price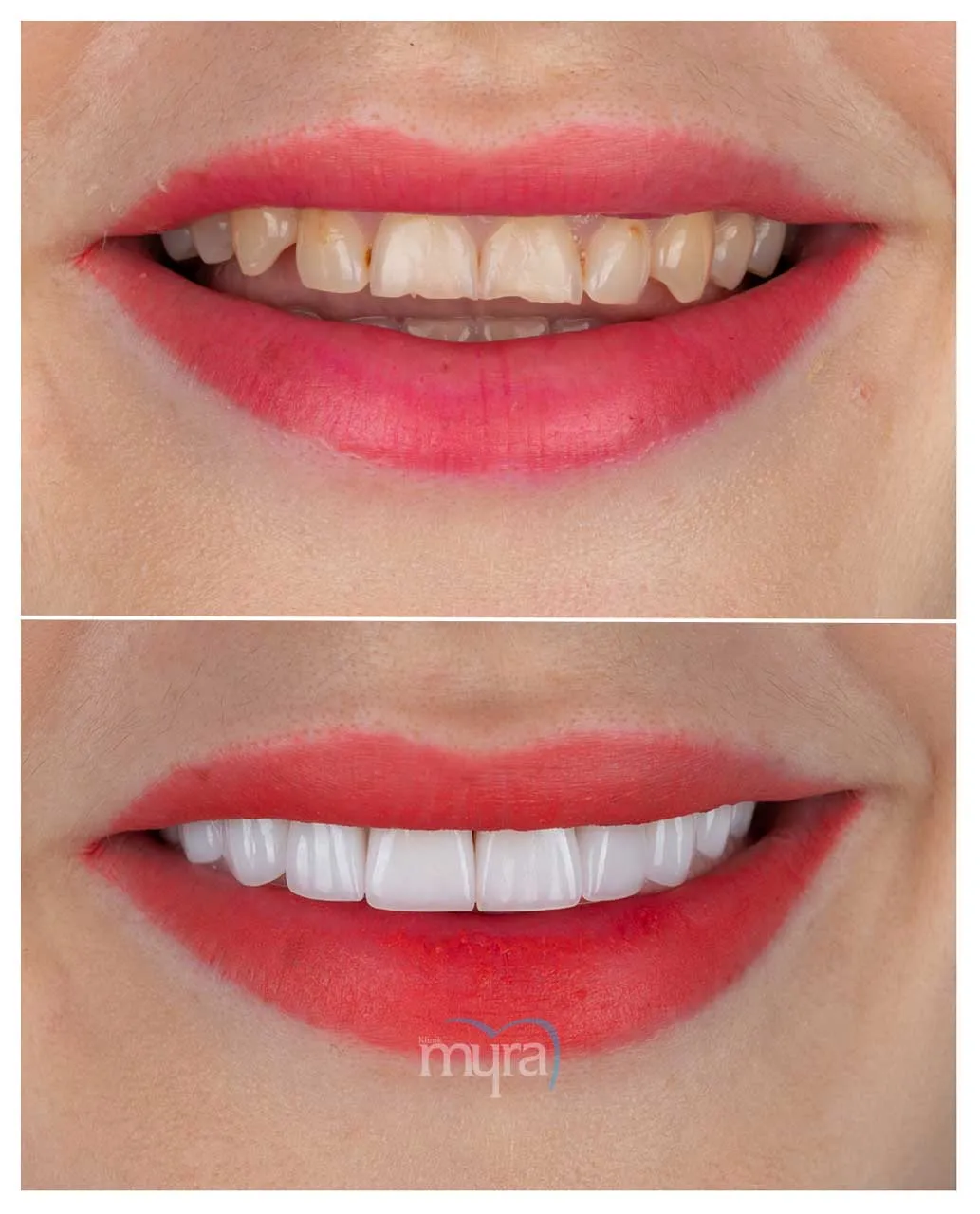 In fact, Turkey veneer price is classified according to dental veneer types. A separate payment is possible for the teeth filled before the veneer. Again, price application can be made based on details such as improvement of processes such as dental cracks and dental caries. Dental veneers prices in Turkey vary in general. Porcelain or zirconium dental veneers are the most commonly used materials. Metal infrastructure is used to increase the durability of porcelain teeth veneer.
Dental veneer prices vary according to the materials used for the procedure. The number of teeth to be made is important. Usually the price increases for each tooth. Another factor that determines dental veneer prices is the knowledge and experience of the dentist. Antalya veneer prices are Turkey's most affordable prices. Patients who want to have dental veneer treatment in Antalya can call us and get current prices. Antalya, which is one of the most beautiful cities in Turkey, shows improvements in health practices as well as in all areas. Antalya is the city with the highest quality clinics for Dental treatments. In the dental veneer application made here, you can take advantage of quality materials and reasonable price options.
Dental Veneers cost abroad
In each country, dental treatments are charged differently. Dental Veneers cost abroad is more expensive than Turkey, as materials and labor charges are very expensive in Europe. The expertise of the dentist and the quality of the clinic has a huge impact on the price. Patients who want to have Veneer surgery should first consult with a dentist and get an idea in line with their needs. Many factors affect the price, such as the materials that the dentist will use and the patient needs, the devices used during the procedure and the cost that the dentist will set for this procedure, the quality of the measurement that will be taken for the Veneer.
Single Tooth Veneer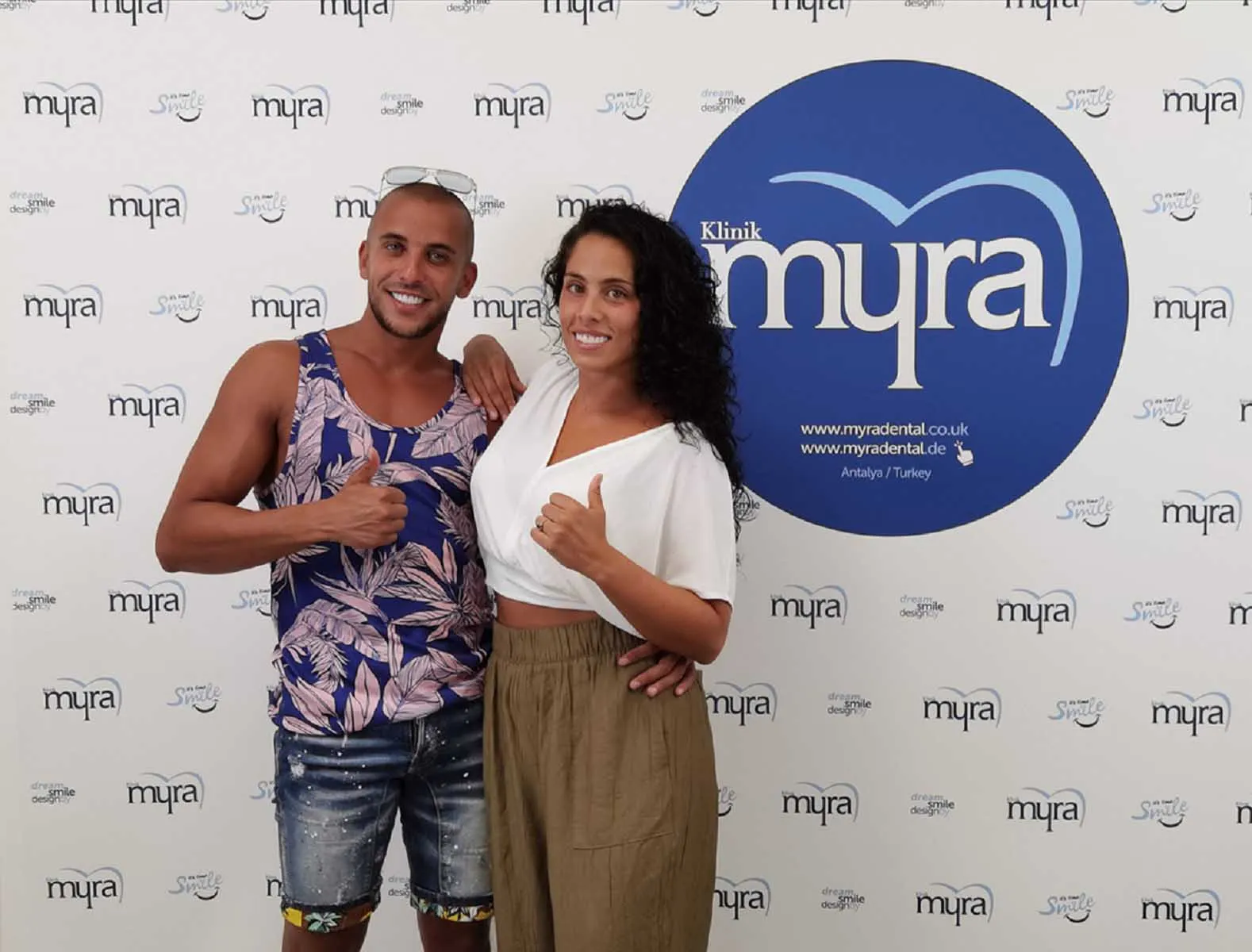 Dental veneer is completed within a few days if a Single Tooth Veneer is to be made, and a maximum of 10 days if a full mouth veneer is to be made. In emergencies, it can be finished in a few days with the cooperation of patient-physician and technician. It can be used for making zirconium veneer, single tooth veneer and bridge, as well as over implant prosthesis. In the absence of a single tooth, making a Triple Crown bridge prosthesis there by cutting and shrinking two neighboring teeth is the last form of treatment to be considered.
When choosing a method of treatment, the duration of treatment and the difficulty of the procedure should not be considered in the selection, the treatment that will provide the most suitable and best long-term success for the individual should be chosen. Cutting teeth may cause sensitivity, pulp necrosis and canal treatment in the future and subcutaneous caries in the future. Restorations and implant treatments to protect the integrity of the tooth in adult patients are replaced with porcelain veneers after a while.
Turkish dentists experience in Dental Veneers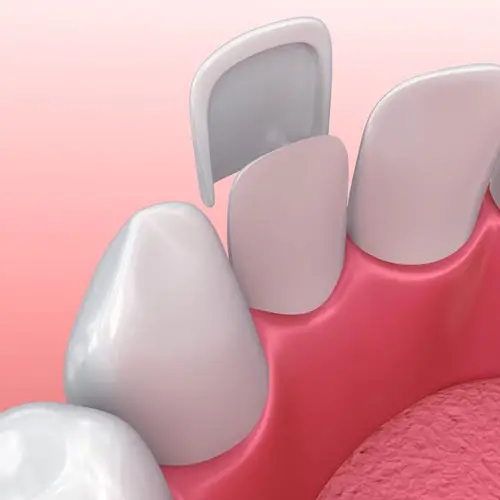 It is essential to have a degree in medicine to treat patients for dentists in Turkey. Turkish dentists experience in Dental Veneers has a world famous title. Every year, thousands of patients come for dental treatment in Turkey from various European countries. One of the most effective factors is, of course, the experience of Turkish dentists and their successful dental surgeries. Affordability is also an important factor, but dentists' experiences are more effective.
At the international medical symposiums held every year, Turkish dentists attract great attention and receive invitations from various countries. In these invitations, they share their experiences with other colleagues and provide information. In addition, Turkish dentists are very friendly, can communicate well with patients and are an expert in their work is one of the reasons for preference. They have many contributions in the success rate of dental veneer in Turkey. If you want to be a dental veneer in Antalya and be treated by Turkish dentists, you can call us. You can call us by phone or send us email from contact page. 7×24 we're always ready to assist you.
How long dental veneers take?
The first stage in the Dental veneer process begins with the examination of the dentist. You also need this exam the health of your teeth and gums is checked, and if any problems are found, the first treatment of this problem is performed. For example, if there is a gum withdrawal, veneer treatment should be applied before the gum withdrawal treatment. The same is applying for tooth decay and veneer treatment is started after the decay is completed. If a problem cannot be detected in the first examination or after the detected problems are treated, the measurement study is started. Dental measurement is taken and local anesthesia is applied to the patient in order to avoid pain. After the preparations such as filing of the teeth are completed, the exact measure is taken and the temporary veneers to be used until the dental veneers are prepared. The purpose of this is to make the patient feel aesthetically more comfortable until the veneers are attached, and to eliminate the problems of tooth sensitivity that they may experience. After the measurement is taken, studies are started to be prepared specially in the veneers laboratory environment. Prepared dental veneers are rehearsed to the patient and their compliance with the gum is measured. At the last stage, the most important procedure, aesthetic proofing, is done. The purpose of this rehearsal is to check the color harmony of the patient with other teeth and to make sure that the teeth are compatible with the face of the patient. Since the result is an aesthetic application, the visual success of the work is extremely important. All these applications are completed within 10 days at the latest. In other words, the duration of dental veneer treatment is maximum 10 days.
Care after Dental Veneer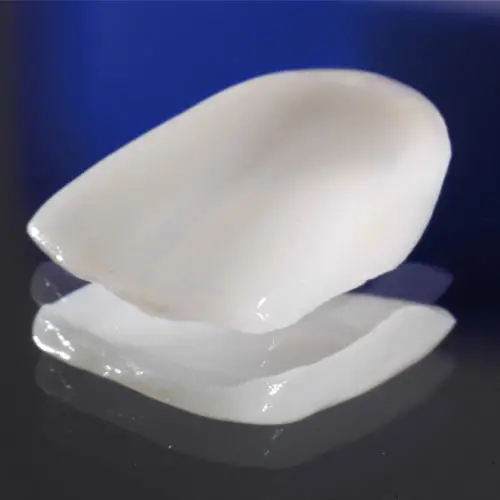 It is normal to feel foreignness to the dental veneer. You can feel strangeness in the first days, even with a simple filling in the mouth. Teeth made in areas that have been vacant for a long time will surely seem big to you in the first days. Your language will always travel on them. These are all usual things. At the end of the first week, all of these will be like your natural part at the end of a month. If these conditions are not excessive, we recommend you to be patient for at least a few weeks. If there are places you cannot get used to after 3 weeks, your doctor will correct these parts.
When it is first made, even if the region that has been left empty for a long time touches normally, it may feel as if there is height. If you still feel height after the second day, you should definitely come to our clinic as soon as possible, if there is height in the relevant prosthetic part, this will disturb you and damage the tooth. In some cases, you may be uncomfortable with veneers when you move your jaw, even if your tooth does not have a height. In this case, your dentist may need to take another small procedure. During this treatment, teeth become sensitive as the teeth are abraded, and temporary veneers are inserted and removed during each session.
In addition, some strong adhesives used during the actual bonding have an acid structure and make the tooth a little more sensitive. Try to avoid very cold hot foods in the first week. You may need to use painkillers on the first day after the actual bonding. It is necessary to pass the sensitivity of cold and hot slowly by decreasing up to 3 weeks. If a condition occurs that requires you to use painkillers after the first day, you will probably need to have canal treatment on your very sensitive teeth. If you have to use painkillers in this way, make an appointment without having to wait 3 weeks.
What are the changes after Dental Veneer?
Crown and bridge prosthesis known as Dental Veneers are prostheses that surround the teeth passing over the teeth. It covers the whole tooth, especially in teeth with large fillings, protects the tooth from external factors and enables longer use. Dental veneer treatment can be concluded within 1-2 weeks in a suitable mouth. After this process, the control phase begins. Temporarily adhered veneers are permanently adhered after approximately 1 week and checked after 6 months. Your speech may change after the operation. You don't need to panic. It's normal. This happens when patients with complete edentulous teeth are implanted with fixed or fixed dental prostheses or when prosthetic changes are made in the anterior teeth. If a correct prosthesis is made for the person, the speech will be restored within 10 days. You will regain your confidence and even the smile on your face will change a lot. You will start to look more positive and enjoy life with your new dental veneers.
Removal of dental veneers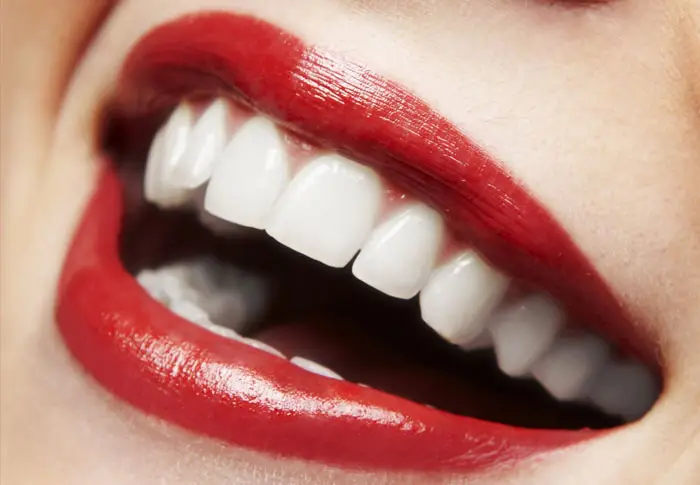 It may be necessary to remove dental veneers for different reasons. For this process, crown removers are used. Unfortunately, when these tools are not used carefully, they can break the cut teeth with veneers. If you want to remove a veneer and make a new one, if you try to remove it just by hitting it, the bottom tooth may be broken. An experienced physician first checks the volume of the teeth holding the veneer. Evaluates how many teeth are under how many veneers and veneer thickness. He decides how to remove the veneer according to the veneer condition at the edge of the gum. If canal treatment is required and it is difficult to remove the veneer, canal treatment can be completed with the hole opened through the veneer. Grooves are opened on the tooth veneer and the veneer is cut.
The hand tool made to remove the veneer is placed in grooves that open over the veneer of the tooth. Thanks to this process, the veneer can be removed easily by opening to both sides without damaging the underlying tooth. Before removing the tooth veneer; The old veneers are examined by asking questions such as whether the patient is happy with this veneer, the problems that the patient has experienced, wishes and expectations.
Recommendations for Dental Veneer cleaning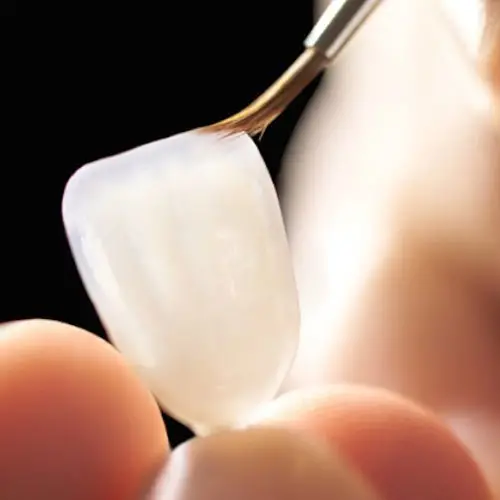 The care of veneers is the same as the cleaning of natural teeth. Brushing and flossing are the basis for good oral health. Remember that your dentist is your ally to keep your mouth healthy. Schedule regular cleaning and also learn about other products specially designed to protect your veneers. The bleaching gels we use to whiten teeth only work on natural teeth; there are no bleaching effects on porcelain surfaces. If the connection is thin enough in composite fillings, a small amount of whitening can be observed.
As long as care is taken for oral care, they do not show serious coloration. However, in patients who do not pay attention to oral hygiene, excessive smoking tea and coffee consumption, stains may occur on natural teeth. Dental veneer care, on the other hand, also applies to zirconium cleaning procedure applied to natural teeth. The correct brushing technique and flossing to be done 2-3 times daily will be sufficient for the maintenance and long-term use of zirconium prostheses. The routine cleaning you apply to your normal teeth should also apply to dental veneers. Because now they are your natural teeth and you are responsible for their cleaning.
Dental Veneer FAQ
There are frequently questions from patients who have or want to have dental veneer in Turkey. Our expert dentists answer these questions. We have compiled the dental veneer frequently asked questions for you below. You can check these questions before dental veneer in Antalya.
GET FREE QUOTE IN MAXIMUM 24 HOURS FOR YOUR PLANNED TREATMENT
Myra Dental Centre Turkey offers Premium Dentistry Services and we believe it starts with the quotation. Your quotation will be sent in maximum 24 hours and will include dental treatment information, costs and dental travel options. You can also contact us via WhatsApp,Facebook, Instagram for your questions about dental treatments.
Contact With Us