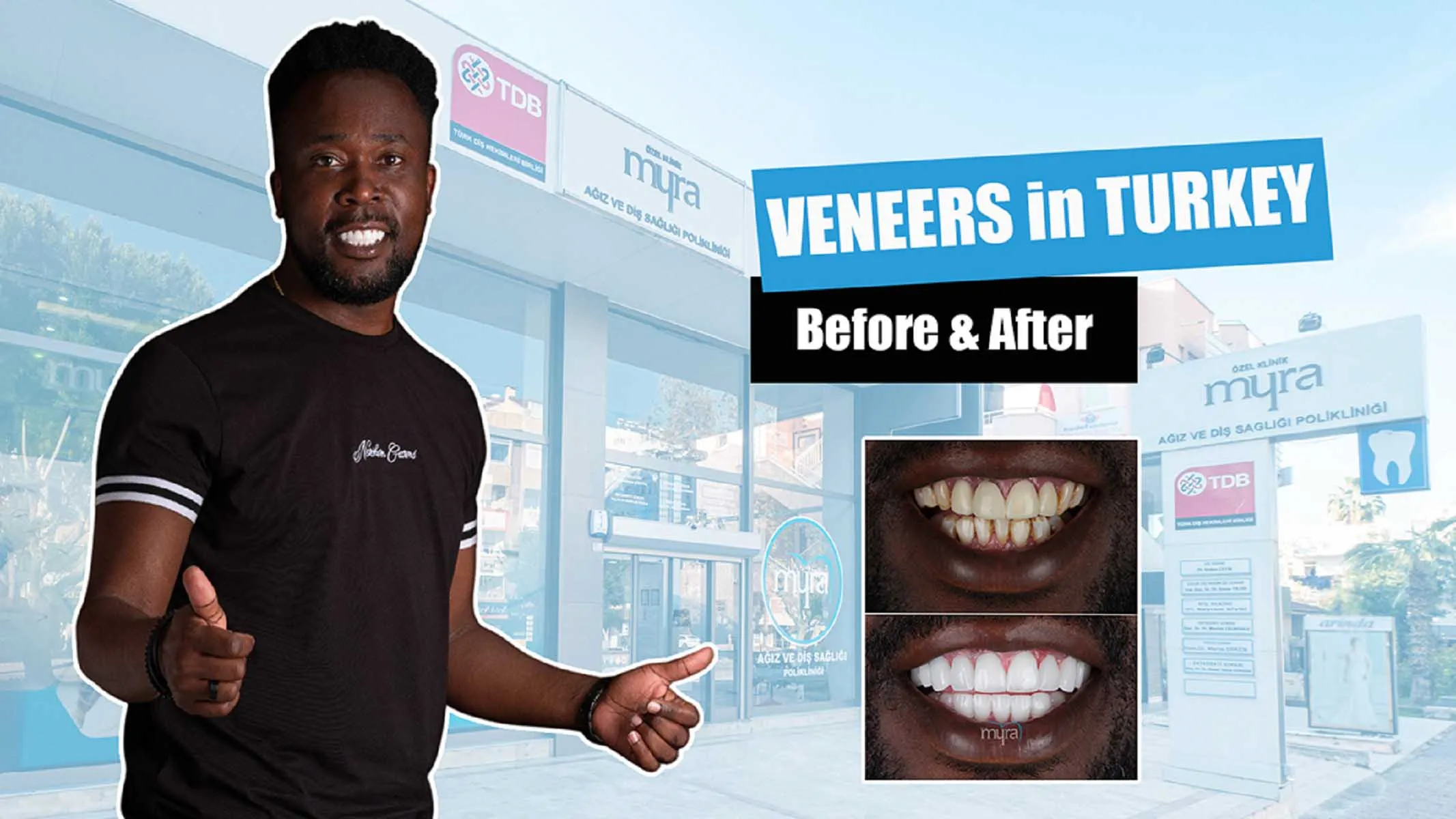 Dental Veneers is an expanding operation in the nation of Turkey, aside from its cultural heritage, appealing food, and breathtaking landscape. Turkey veneers deliver a unique combination of price and quality that attracts people from all over the world. The process of obtaining them includes numerous factors, but the most important is minimal expense. Many people are drawn to Turkey veneers because of their low prices.
Veneers are light coverings that are attached to the exterior parts of teeth and are made of porcelain or composite resin. Veneers are tailored to fit every tooth and are designed to resemble the authentic look of teeth, providing an innovative remedy for a variety of dental flaws ranging from imbalances and stains to chipping and gaps.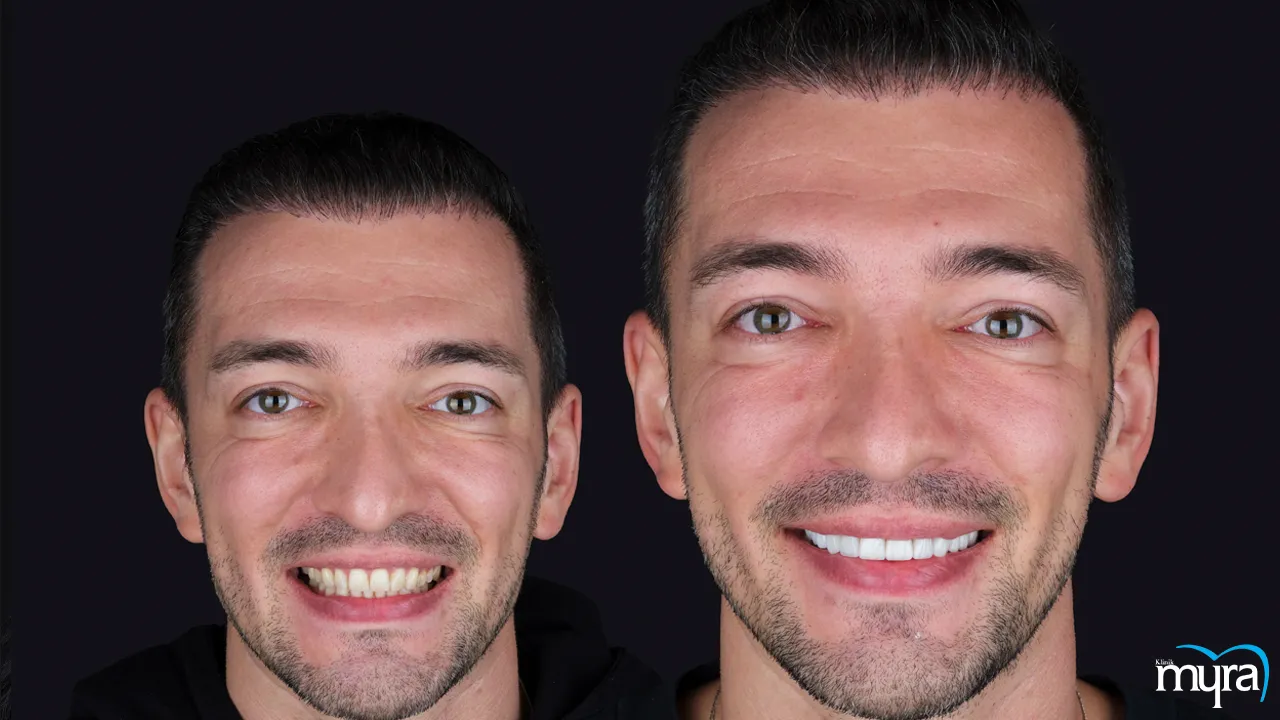 The cost of veneers varies greatly based on a variety of circumstances, with geography being a major impact. Turkey, known for its excellent medical tourism, emerged as a hub for dental procedures, delivering veneers at just a small percentage of the cost found elsewhere. Dental Veneers in Turkey, particularly in Antalya cost around €200 or range from £140 to £300 for a single tooth. The price ranges from £2,520 to £5,400 for a full set of veneers.
Price is an important consideration but it is still critical to examine other factors before deciding on veneers. The calibre of the material, the practitioner's skills, the life span of the veneers, and post-procedure maintenance are just a few of the factors that influence the entire cost.
A comparative analysis is required to make an informed decision. One acquires a full understanding of where the best value for money is found by comparing Turkey's veneer costs and quality to those of other global marketplaces.
How much do Veneers cost in Turkey?
Veneers' cost in Turkey varies on many factors such as the kind of veneer material used, the quantity of veneers received, and the location of the dental facility. A single veneer in Antalya, Turkey costs between £240. A full set of veneers is purchased for £2,520 to £5400 in most clinics, which is 70% cheaper than in the UK. The overall fee includes hotel accommodations, treatment expenses, hotel-to-clinic transfers, and airport transfers.
The cost of veneers in Turkey is determined by the quantity of shells employed throughout the upper and lower jaws. Some of the most common types of veneers in Antalya are zirconium and E-Max. The cost of 20 Zirconium veneers is £3,780, while 16 Zirconium veneers amount to £3,024. The price for a set of 20 E-Max veneers is £4,770, whereas, a set of 16 E-Max veneers is £3,816.
Turkey established itself as a popular destination for dental tourism, owing to the low cost of veneer procedures available. Such dental services are often two to three times less expensive than what patients pay in Western countries such as the United States, the United Kingdom, or the rest of Europe. The significant price differential, without sacrificing quality, made Turkey an appealing choice for overseas patients looking for economical yet high-quality dental veneers.
The cost of dental veneers in Turkey is additionally influenced by certain packages. Dental centres in Turkey provide entire packages based on the number of sets purchased. Dental veneer packages in Turkey include treatment, x-rays, physician's consultations, subsequent appointments, and transfers from airport to hotel, hotel to facility, and vice versa. A complete set of veneers with 28 pieces costs around £6,678. The cost of a set of 20 veneers is roughly £3,780. A set of 12 veneers costs approximately £2,862, while a set of 16 units costs approximately £3,816.
What should be your considerations in getting veneers in Turkey?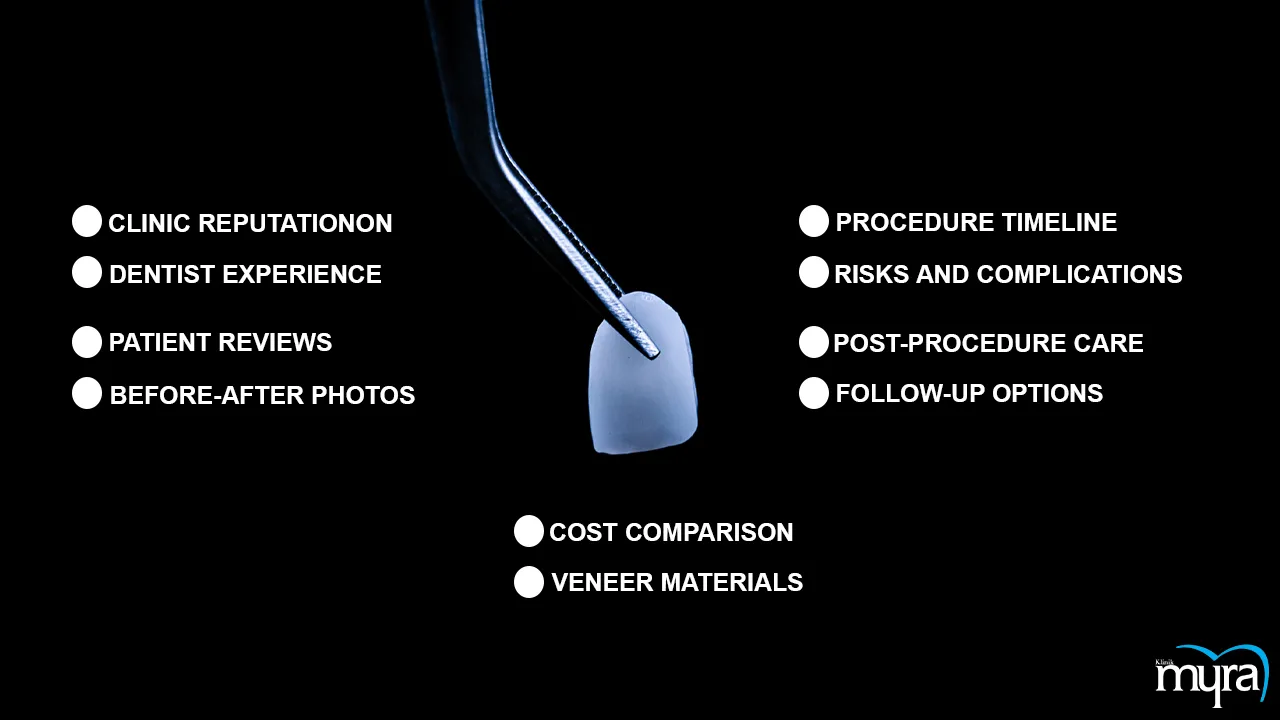 The considerations for getting veneers in Turkey are listed below.
Clinic Reputation: A dental clinic's credibility is critical to the level of care received in Turkey. A facility with a transparent and reputable history usually suggests a dedication to providing high-quality dental care. Select a clinic with a positive and trustworthy reputation to achieve the greatest results.
Dentist Experience: The skill of the dentist is critical to the procedure's efficient execution. Evaluating their educational history, training, and any special qualifications guarantees that one's oral health is given to a qualified practitioner. International qualifications or training reflect knowledge of global best practises in dentistry.
Patient Reviews: Examining prior patient reviews and testimonials provides information about the clinic's efficacy, competence, and satisfaction with patients. Read both good and negative reviews to gain well-rounded knowledge. Genuine reviews assist in setting realistic expectations and identifying the facility's capabilities and potential faults.
Before-After Photos: Visual evidence of previous surgeries demonstrates the clinic's expertise and the high quality of results. Potential patients measure the transforming impact of the veneers by comparing before and after images. Such photographs help match one's expectations to the clinic's shown results.
Cost Comparison: Evaluating prices between clinics in Turkey normally results in affordable veneer procedures. The comparison takes into account the material quality, the dentist's expertise, and any associated aftercare. A cheaper price must not come at a cost of reliability; be sure to get good value for one's money.
Included Services: Some clinics provide package deals that include consultation, procedure, aftercare, and even lodging. Understanding what's covered helps avoid surprises and ensures paying for full treatment. Inquire about any additional or hidden fees that are incurred during the procedure.
Veneer Materials: The materials utilised have a direct impact on the longevity, functionality, and beauty of the veneers. High-quality, recognised veneers not just last longer, but have a look that is more authentic at the same time. Knowing about the brands and materials the clinic employs, and their way of conducting independent studies on their public image is worthwhile.
Hygiene Standards: Strict hygiene practises are required to prevent infections and problems during dental operations. A good clinic is spotless, uses sterilised equipment, and follows international hygiene standards. Ensure that the clinic of choice prioritises the safety and health of patients through stringent cleanliness procedures.
Location Convenience: The clinic's location has an impact on travel, lodging options, and general convenience. Consider its closeness to key transit hubs, hotels, and tourist attractions, particularly if when planning to combine treatment with touring. A strategically situated clinic provides simpler access while saving time and money on transportation.
Procedure Timeline: Understand how long the complete veneer operation takes, from consultation to recovery. It aids in the planning of one's stay, any potential excursions, and the return trip. A precise timeline guarantees that you do not rush the procedure and leave enough time for full recovery.
Risks and Complications: Veneers, like any medical operation, have risks and problems. A trustworthy clinic discusses such issues with patients openly, suggesting answers and preventative actions. Being well-informed enables patients to make a sound choice and plan for any future obstacles.
Post-Procedure Care: Proper post-veneer maintenance is essential for longevity and sustaining dental health. The dental facility must give detailed instructions on cleanliness, potential food constraints, and things to avoid. Following post-procedure care instructions gives the greatest results and lowers the chance of problems.
Follow-Up Options: Regular post-procedure check-ups aid in monitoring the condition of the veneers and addressing any concerns promptly. Check with the clinic about how they manage follow-up appointments, especially for overseas patients. Consider virtual consultations or collaborations with clinics in one's native country for ongoing care.
1. Clinic Reputation
Clinic reputation is one of the factors to consider in getting veneers in Turkey. Clinic reputation pertains to the general thinking, reliability, and regard associated with a certain dental facility according to its track record, feedback from patients, rate of achievement, and professional connection.
Clinic reputation pertains to the general thinking, reliability, and regard associated with a certain dental facility according to its track record, feedback from patients, rate of achievement, and professional connection.
Clinic reputation is critical as it reflects the clinic's commitment to patient treatment, the calibre of its services, and its dependability. A good reputation shows that a clinic consistently performs effective dental procedures while minimising risks and maintaining patient pleasure.
Innovative equipment and skilled specialists employed by reputable clinics normally affect the pricing of veneers in Turkey. They charge a premium for their services due to the high standard of care. Their established market name, along with a track record of successful procedures, enables them to position themselves as top-tier providers, which influences their pricing strategy.
2. Dentist Experience
Dentist experience is another essential factor for getting veneers in Turkey. Dentist Experience refers to how long a dentist has been in practice and the variety and number of cases they've dealt with. It involves any specialised training they've received and the results of their operations.
A dentist's experience is important since it coincides with the proficiency and skill with which they perform operations. A skilled dentist has faced a wide range of dental settings, forecasts probable issues, and employs subtle skills gained from years of experience, resulting in improved success rates and safety for patients.
Dentists with extensive experience and a track record of effective veneer applications charge more than less experienced colleagues. The increased assurance of quality and lower risk they provide, their wealth of experience, together with the reputation they've earned over time, justify paying higher prices.
Dentists with extensive experience have engaged in continuing education, joined international conferences, received specialised training, and have a clientele that attests to their knowledge. Paying a high premium is an investment in knowledge and peace of mind, knowing people get the best care available.
3. Patient Reviews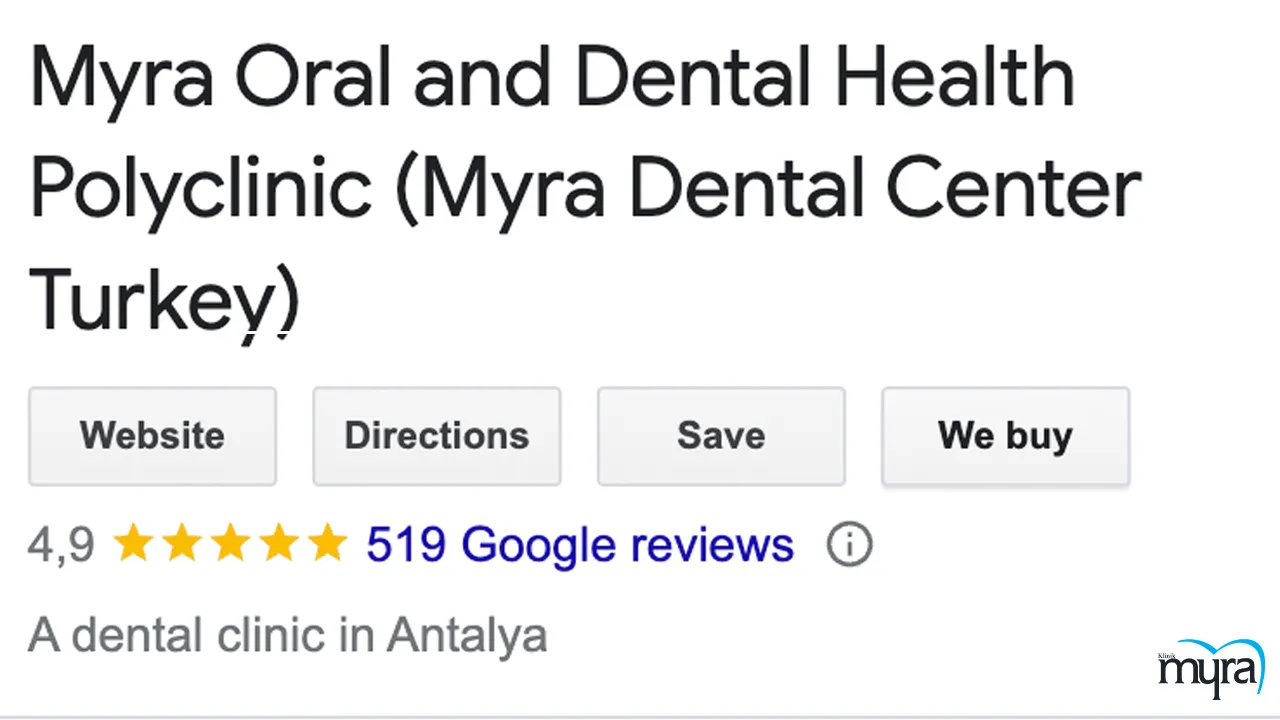 Getting a veneer in Turkey necessitates looking into previous patient reviews beforehand. Patient Reviews are comments, remarks, and personal stories provided by patients who have had veneer operations or other dental services performed at a certain clinic. The testimonials are found on a variety of venues, including social media pages, third-party review sites, dental forums, and the clinic's website.
Patient evaluations provide a genuine insight into the actual procedures and outcomes of people who all went through the surgery. They offer an invaluable viewpoint on service quality, patient care, the dentist's knowledge, and overall happiness. Reviews identify any reoccurring problems or commendable clinical practises.
A dental facility with overwhelmingly positive ratings presents itself as a market leader in its field. Consistently good comments and potentially high ratings are utilised as indicators of quality and dependability, which impact the pricing structure. Clinics invest more in providing high-quality treatments, knowing that patient feedback has a direct impact on their reputation and their market standing.
Clinics that routinely receive excellent feedback are expected to charge higher rates due to the increased certainty of quality they provide. They are more trustworthy and reputable because of the good reputation they have developed, which is supported by real patient testimonials. Patients are more prepared to pay a greater price for treatments at a clinic where patient satisfaction is demonstrated, connecting the higher cost with higher quality and a more favourable experience.
4. Before-After Photos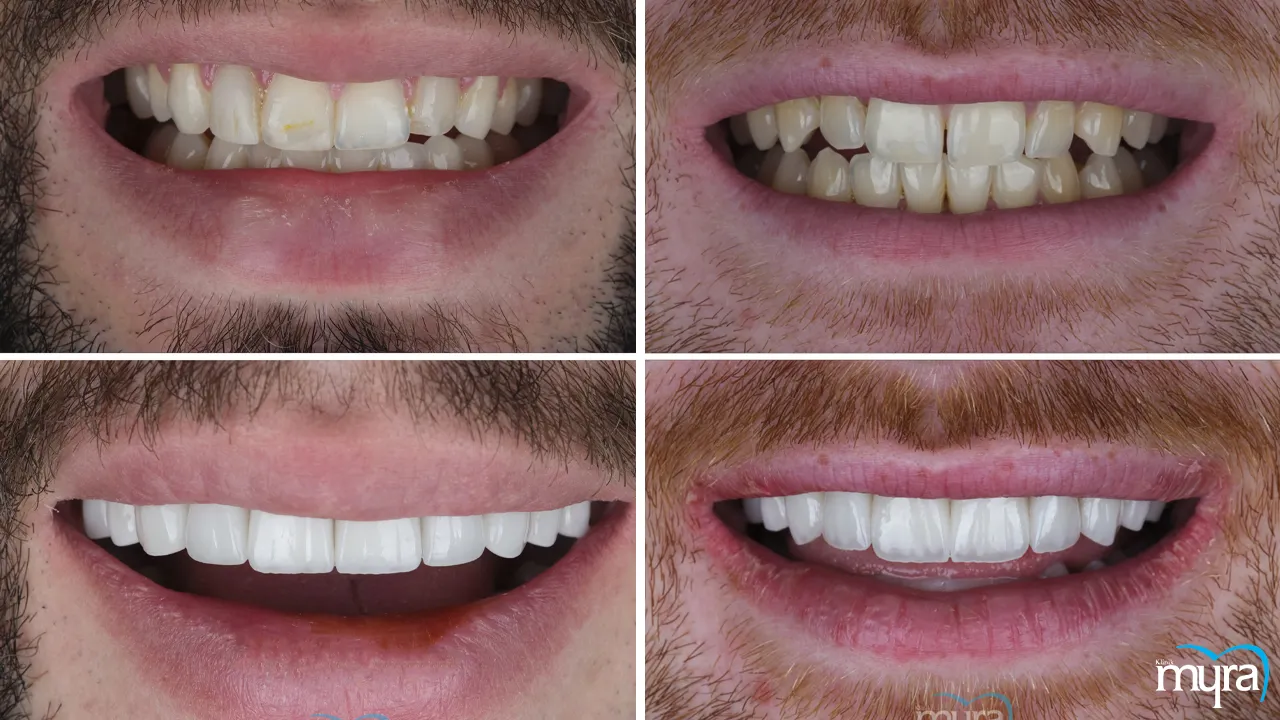 Dental veneers in Turkey are decided using before-after photos. Before-and-after photos are visual representations of patients' dental issues prior to having veneers and the results after the surgery. Clinics post such photographs as proof of their work, allowing future patients to see the physical results of veneer applications.
Before-and-after images give prospective patients a visual representation of a clinic's knowledge, artistry, and the changes that it is capable of producing. Such visualisations not just foster trust but help patients visualise prospective results for their own teeth as well.
Before-and-after images of high-quality changes attest to a clinic's expertise and mastery in veneer treatments. Clinics that consistently exhibit extraordinary breakthroughs promote themselves as premium treatment providers, using their documented success to justify their pricing.
Clinics with a strong portfolio of before-and-after images charge extra because of the perceived increased value they provide. Such graphics represent the clinic's dedication to efficiency and precision, generating the impression of excellent service quality. Patients are more willing to pay more if they associate the greater price with the anticipation of extraordinary results, as indicated by the images.
5. Cost Comparison
Cost comparison is another important consideration in acquiring Turkey veneers. Cost comparison entails comparing pricing for veneer operations among different clinics in Turkey. It includes potential prices in the patient's native nation or other dental tourism locations. It ensures that the patient receives a reasonable and competitive price for dental care.
A cost comparison is essential for budgeting and guaranteeing value for money. Patients measure the selling cost for veneers in Turkey by comparing rates, identifying any anomalies, and understanding what is incorporated in the price. The procedure assures that patients do not overpay while still prioritising quality.
Pricing is influenced by competition and demand, just like in any other market. Clinics in Turkey understand that patients research pricing before selecting a certain provider. Dental clinics strive to offer competitive rates while covering their operational costs and maintaining a high degree of quality. Their pricing is adjusted to fit with their viewed worth offer based on criteria such as expertise, the technology they use, and location.
Dental clinics in Turkey with significantly higher prices need to justify their rates with advanced technology, superior service, or exclusive materials, as prospective customers compare pricing. Clinics that charge significantly less than the norm, on the other hand, are potentially looked at with mistrust since they imply concessions in quality or expertise. Market characteristics like as patient behaviour and cost comparison have an impact on how clinics organise their veneer pricing.
6. Included Services
Included Services are another factor to consider in getting veneers in Turkey. Included Services are the offerings that come along with the primary veneer process. Included services include initial assessments, preparatory therapies, post-procedure treatment, subsequent visits, and sometimes even lodging or travel.
Understanding the full extent of bundled services is critical for a number of reasons. It prevents patients from being surprised by hidden or additional prices, enables a thorough evaluation of the clinic's value, and guarantees that patients get every service they need for a successful veneer installation and healing.
The range and calibre of services incorporated in a veneer package have a significant impact on the total cost. Clinics that provide a more comprehensive service package, such as quality materials, innovative equipment, or even extra perks such as transportation, naturally integrate such expenses into their pricing.
The total price of services is included in the entire pricing when a clinic offers a comprehensive package. For example, a clinic that provides premium post-care goods, transportation, or extended warranties is anticipated to demand more fees than one that provides the basic operation. Such all-inclusive packages are cheaper than obtaining each treatment separately and provide the ease of simplified management.
7. Veneer Materials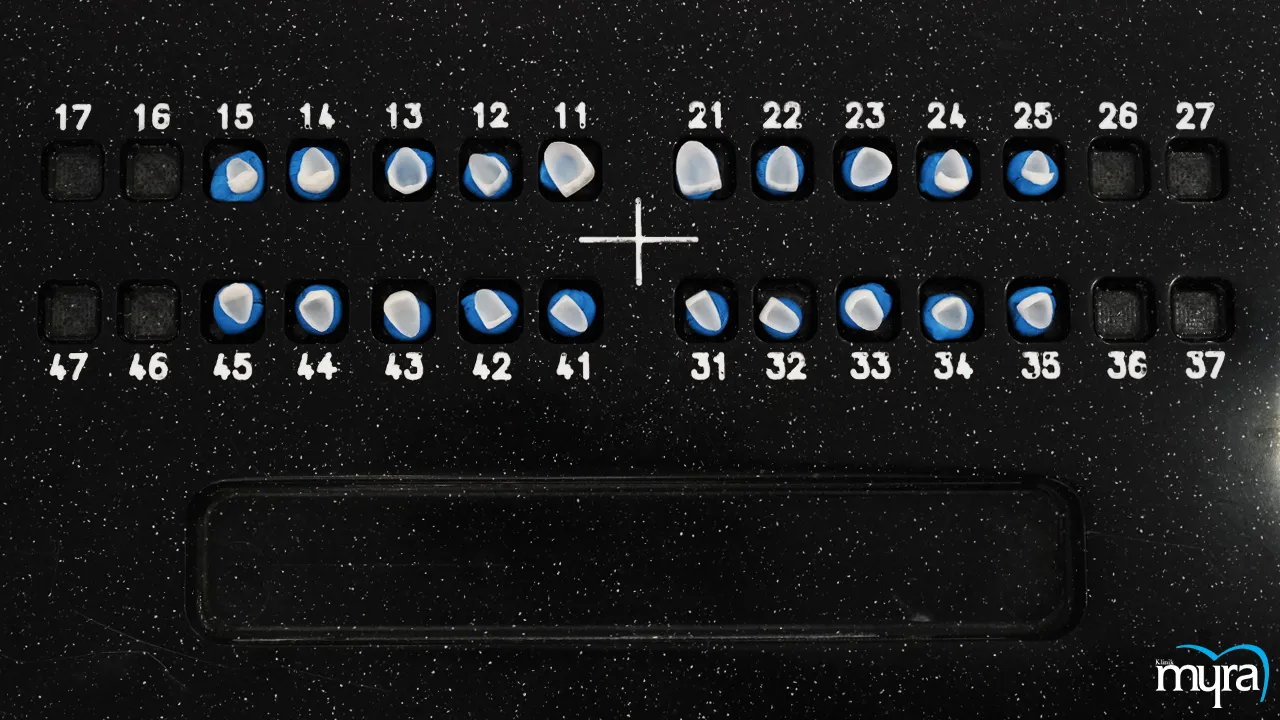 Veneer materials are among the important things to consider in getting a dental veneer in Turkey. Veneer Materials are the specific components or trademarks utilised in the fabrication of veneers. Porcelain and composite resin are two common materials, each with its unique set of characteristics and benefits.
The selection of veneer material is critical since it has a direct impact on the resilience and appearance of the veneers. The various materials have different longevity, design, and care demands, making it critical for patients to understand what they are getting.
The kind and grade of the material used have a substantial impact on the overall price of the veneers. Premium materials or recognised brands command a greater price. More inexpensive materials are less expensive but do not last as long or have the same aesthetic appeal.
Porcelain veneers, for example, are more costly than composite resin veneers. The intricate creation process, the material's longevity, and its ability to mirror the authentic transparency of tooth enamel all contribute to its price. Individual brands or proprietary materials within such categories command a higher price owing to their credibility, research-backed efficacy, or any special features they provide.
8. Hygiene Standards
Hygiene standards are a crucial element to look for in getting Turkey veneers. Hygiene Standards address cleanliness practises, sterilisation measures, and the general upkeep of a hygienic environment within the dental clinic. Hygiene standards include sterilising equipment, keeping operating rooms clean, and adhering to global health and safety norms.
Maintaining high standards of cleanliness is critical for preventing infections, providing effective dental procedures, and ensuring patient safety. A sterile environment is essential in any medical process, particularly in dentistry, as it protects against potential complications and supports maximum recovery after the procedure.
Maintaining high hygiene standards necessitates ongoing expenditures in sterilisation equipment, regular employee training, and even periodic certifications. Such operational costs are incorporated into treatment prices, which are critical to ensuring patient safety and service quality. A clinic that emphasises outstanding hygiene is expected to charge a greater fee for its services to account for the investments made in such an area.
Clinics that use cutting-edge sterilisation equipment, follow worldwide hygiene guidelines and are subject to frequent audits to ensure compliance charge higher rates for their services. The increase in cost is due to the continuing costs associated with maintaining a sanitary environment. Patients recognise and agree to pay for the peace of mind that comes with severe cleanliness practises.
The clinic's hygienic requirements must be the top priority when considering veneers or any other dental procedure in Turkey. Cleanliness in the facility and its procedures ensures patient comfort, satisfactory results from treatment, and a lower chance of post-procedure problems, while it has an impact on the cost as well.
9. Location Convenience
Location convenience is among the most important factors to think about when getting dental veneers in Turkey. Location convenience relates to the clinic's availability and feasibility when it comes to major transit hubs, lodgings, facilities, and prospective tourism attractions. Location convenience considers the convenience of travelling to the facility for both international and domestic patients.
A clinic that is conveniently located spares patients time and money on transportation. A strategically placed clinic, particularly for international guests provides the benefit of closeness to significant tourist destinations, making for a more delightful travel experience. It is especially important if the veneer technique requires numerous visits.
Clinics in prime locations, particularly in big cities such as Istanbul or Ankara, experience greater operational costs as a result of real estate values and other expenses. Such increased costs are reflected in their service pricing. Clinics in more rural or less central locations involve reduced costs at the expense of increased travel time or limited accessibility.
The location of a clinic, particularly if it is in a popular or affluent region has an impact on its pricing structure. Rents and operating expenditures in the best areas are frequently higher. Patients are expected to pay a little more at such clinics. They are paying for the convenience, accessibility, and sometimes prestige associated with such locations.
10. Procedure Timeline
Getting veneers in Turkey necessitates knowing the operation's procedure timeline. The Procedure Timeline describes the duration and timing for the full veneer process, from initial assessments and preparation procedures to application and recuperation. The procedure timeline lays out clearly what patients expect with regard to time investment.
Understanding the process timeframe is critical for practical planning, particularly for international patients who must arrange travel, lodging, and potentially even time off from work. A well-defined plan ensures that patients set aside enough time for operation, subsequent appointments, and any potential recuperation, reducing the danger of hurrying through the procedure.
The clinic's skill and infrastructure are reflected in the swiftness and efficacy of the veneer procedure. Clinics that provide speedier yet effective operations without sacrificing quality are anticipated to charge a greater fee for their services due to the convenience and modern techniques they utilize. A lengthier schedule indicates a more detailed, complete approach, which normally influences cost.
Clinics that have reduced treatment times through modern technology or refined techniques charge a premium for such quicker service. A clinic that provides a longer, more staggered approach has a different price plan, to cover comprehensive evaluations or to spread out the fees over numerous appointments.
11. Risks and Complications
The risks and compilations of getting veneers in Turkey are among the most critical factors to consider. Risks and complications are negative results or problems that occur during or after the veneer operation. Risks and compilation include any negative effects, dangers from damage, or worries about the durability of the veneers.
Being aware of potential dangers and problems in veneer installation is crucial. Patients assess the advantages against any potential disadvantages and prepare for any unforeseen circumstances. It indicates the clinic's openness and dedication ensuring the patient is fully informed and safe.
Risks and consequences are reduced in clinics that use cutting-edge techniques, make investments in training, and work with premium supplies. The expense of their services is impacted by the precautions they take to guarantee patient safety and the best results.
The total price of their services is impacted by the precautions they take to guarantee patient safety and the best results. Clinics include the cost of complete aftercare plans or guarantee policies that handle probable difficulties in their pricing.
Pricing is a good indicator of the procedure's perceived risk at a particular facility. A clinic charges more if it makes significant investments in risk reduction through education, supplies, and technology. A clinic that provides costs that are noticeably lower is expected to make compromises, potentially raising the risk of complications.
12. Post-Procedure Care
Post-procedure care is another essential element when getting veneers in Turkey. Post-procedure care involves the recommendations, therapies, check-ups, and extra services the dental office offers following the placement of veneers. Post-procedure care includes specific cleaning instructions, suggested cleaning products, dietary recommendations, follow-up visit dates, and any other relevant care data to ensure the longevity and health of the veneers.
Maintaining the quality and appearance of veneers and avoiding any issues require proper post-procedure care. Following post-procedure recommendations guarantees that the veneers last longer and improve oral health in general. It is crucial that patients fully comprehend and commit to the component of the treatment for the best results.
Clinics that place an emphasis on providing thorough post-procedure care include the price of such extra services, supplies, and assistance in their pricing. Reliable aftercare goods, thorough instructions for patients, and quick access to consultations in case of questions necessitate resources, training, and more workers. Such factors affect the procedure's total expense.
Pricing is impacted by the quantity and calibre of post-procedure care. Clinics that provide complete aftercare, such as routine check-ups, high-quality goods, and 24/7 helplines charge extra costs to cover such value-added services. Such services do not guarantee patient happiness and safety but show the clinic's dedication to long-term outcomes and patients' welfare, which justifies the prospective surcharge.
13. Follow-Up Options
Another crucial factor to check when getting veneers in Turkey is the Follow-up Options. The dental clinic offers a variety of post-procedure offerings, check-ups, necessary revisions, and consultations after the procedure. Such choices guarantee that the veneers are properly positioned, are operating at their peak efficiency and that any issues or challenges are immediately resolved.
The success of the veneer operation must be monitored, patient satisfaction must be guaranteed, and any concerns or problems that develop after treatment must be addressed during follow-up visits. The longevity and health of both the veneers and the underlying natural teeth are ensured by them. They play a crucial role in preventive care by identifying any issues early on.
Clinics that provide a wide variety of follow-up services demonstrate their dedication to long-term patient care and the effectiveness of the procedure. The costs related to such services is taken into account when determining the overall cost of the veneer treatment. They involve routine check-ups, changes, or the potential application of cutting-edge monitoring technology.
The complexity and breadth of a clinic's monitoring choices affect how much they charge. A clinic charges more for such extra services if it promises more follow-up consultations, uses cutting-edge diagnostic equipment, or provides longer warranties. Such services guarantee that patients receive constant post-procedure care and attention, giving them peace of mind and assuring the finest long-term results.
What is Dental Veneer?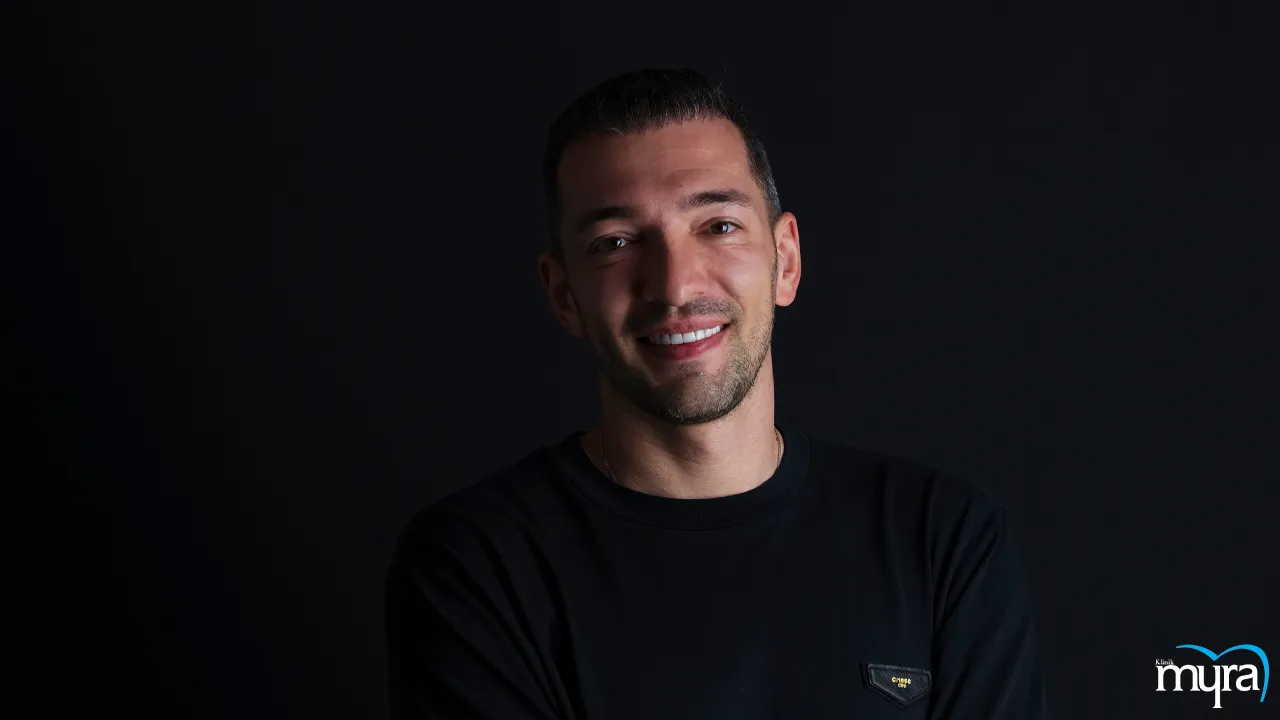 A dental veneer is a delicate covering of porcelain or composite material that is manufactured specifically to fit over a tooth's front surface. The original enamel of the tooth is glued to it in a series of in-office treatments.
Composite resin and porcelain are the two main materials used to make veneers. The strength, resistance to staining, and capacity of porcelain veneers to mirror the light-reflecting qualities of genuine teeth are widely recognised. Composite resin veneers are less expensive and easier to apply than porcelain veneers, however, they do not last long and are less stain-resistant.
A Californian dentist named Dr. Charles Pincus created the first type of dental veneers in the late 1928s. They were initially developed for performers to temporarily alter their teeth's appearance for film parts. Such primitive veneers were just temporary since they were attached to teeth with denture adhesive. Dental adhesives became available in the 1950s and 1960s, enabling longer-lasting treatments. Today's veneers are more resilient, realistic, and available to a wider range of people because of advancements in materials and manufacturing processes over the years.
Veneers are frequently utilised to correct teeth that are spaced apart filling the void between such teeth. Veneers are used for deteriorated teeth and those that are mispositioned for instance, teeth with craters or bulges having an irregular shape. They are applied on teeth with chips or fractures and teeth that have stains from tetracycline or other medicines, excessive fluoride stains, root canal treatment stains, massive resin fillings, or other causes.
Dental veneers demand three visits, one for an initial assessment and two more for fabrication and application. The procedure for Dental Veneer installation is carried out simultaneously on one tooth or a number of teeth.
Are veneers expensive?
Yes, veneers are expensive. Dental veneers are thought of as being pricey, and there are many variables that contribute to such perception. The superior components utilised, the knowledge of the dental specialists using them, and the intricate craftsmanship required are principally reflected in the price.
Each patient's veneers are produced specifically for them, guaranteeing a precise fit and a look that is authentic. Accuracy cutting-edge technology, and specialised abilities are needed to create veneers that seamlessly match a patient's natural teeth. The materials used in porcelain veneers, for example, are pricey but are praised for their ability to simulate the translucency of genuine tooth enamel.
The American Dental Association estimates that a person must set aside a budget between £733 and £1,981 per tooth for dental veneers. Each composite veneer costs between £317 and £1584 and lasts for five to seven years. Traditional veneers are the most economical choice in the long run. Patients expect to spend about £158 on composite veneers in Turkey. Porcelain veneers in Antalya cost between £140. The average price range is between £159 and £320. One typically obtains a package and saves even more money if one prefers the installation of multiple veneers.
The skill of the dentist additionally has a big impact on the price. Dentists with considerable experience and a history of effective veneer installations bill more money, due to their demonstrated expertise. Veneers are a long-term investment, notwithstanding their initial high cost. They are viable to last for a decade or more and offer both aesthetic and practical advantages with proper maintenance. Patients discover outstanding veneers at rates noticeably cheaper in Antalya, Turkey than in Western nations. It has helped Turkey develop into a centre for medical tourism.
The answer to the question "Why are Veneers so Expensive?" elaborates that veneers are pricey due to the premium materials, skilled craftsmanship, and knowledge needed for application. Every veneer is created to order, which necessitates accuracy and cutting-edge technology. Costs are affected by the dentist's qualifications, the facility's setting, and its standing. Veneers are an ongoing investment in one's smile, despite the initial cost.
What are the benefits of getting full set of veneers in Turkey?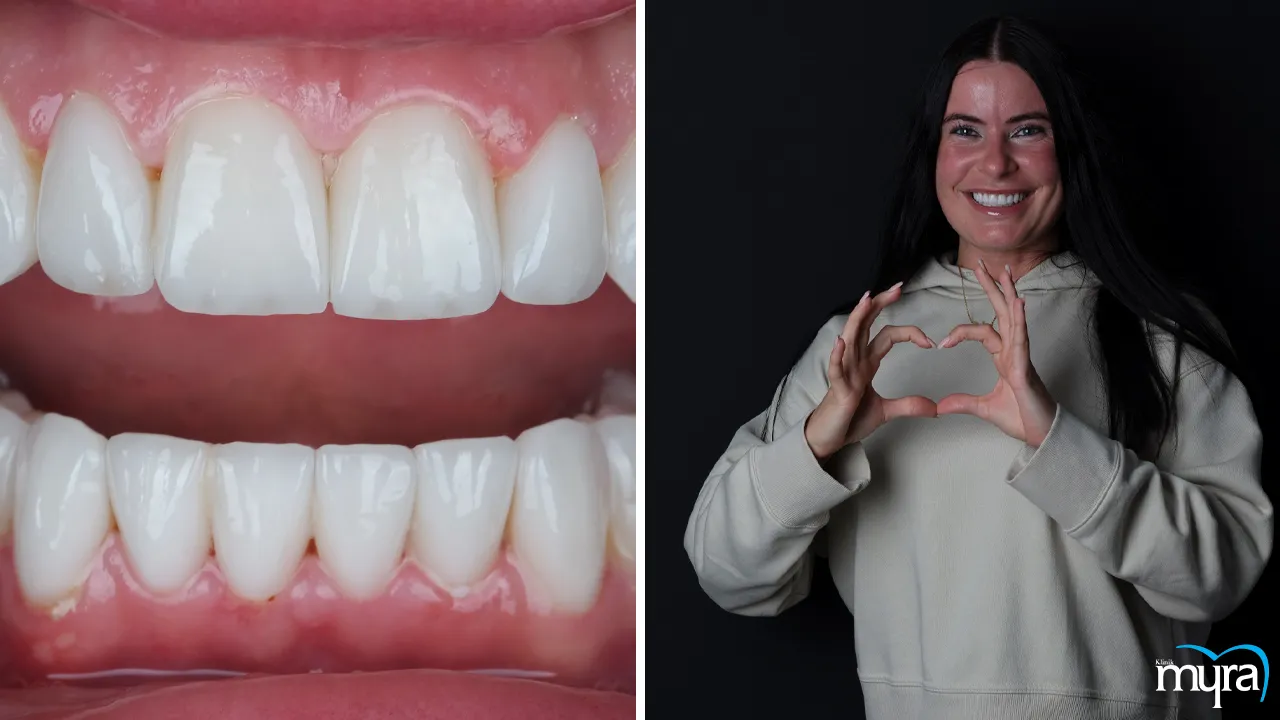 The benefits of getting full set of veneers in Turkey are observance in many factors. Acquiring a full set of veneers in Turkey includes cost, effectiveness, quality, travel-convenient packages, and quick turnaround time.
One of the primary reasons why many patients choose Turkey for veneers is the significant cost reductions it offers. Turkey is a more cost-effective choice because high-quality veneer treatments are frequently available for a small fraction of what they cost in Western nations. Veneers are less expensive in Turkey primarily because it has lower living expenses compared to other countries in Europe, which allows dental care professionals to charge less for their services.
Turkey has additionally more dental care providers, which increases competition and lowers veneer rates. The country's favourable exchange rate with other international currencies has maintained products and amenities accessible to patients travelling for medical treatment.
Turkish dental clinics use cutting-edge equipment and adhere to worldwide standards of treatment, especially those in big cities like Istanbul. Turkish dentists are well-versed in the most recent methods since many Turkish dentists received their education in Europe or the United States. They utilise premium materials like porcelain or composite resin, which provide longevity and an authentic appearance.
Dental veneer packages in Turkey not just cover the actual operation but the required pre- and post-operative treatments as well. Clinics in Turkey make sure that every stage of the patient's travel is taken care of, from the minute they land in the country until their final check-up before leaving. A lot of dental offices provide entire packages that include transportation, accommodation, and even sightseeing tours. International patients benefit from a more convenient overall experience because of it.
Turkish dental clinics compete with one another, which frequently results in speedier treatment. Several clinics are used to working with clientele from other countries allowing it to create and fit a whole set of veneers in a quite short amount of time.
Patients' question "What are the benefits of getting a full set of veneers in Turkey?" is answered by the fact that they offer high-quality dental care at a reasonable cost. Dental veneer patients in Turkey additionally takes advantage of the scenic and cultural attractions of a lovely nation by choosing to have a full set of veneers in Turkey.
Are veneers in Turkey a lot cheaper compared to the UK?
Yes, veneers in Turkey are a lot cheaper compared to the UK. A lot of British people find Turkey to be an appealing dental destination because of the substantial cost difference. One of the important factors contributing to the country's cheaper veneer cost is that Turkey has cheaper operational costs than the UK. It includes lower prices for employee wages, rent for facilities, and utilities.
Dental clinics in Turkey provide top-notch services for a fraction of what is expectedly costly in the UK. Turkish dental clinics enjoy economies of scale thanks to the enormous number of foreign patients they treat, which enables them to offer procedures at more affordable costs. Another factor is the favourable exchange rate between the British pound and the Turkish lira, which increases the purchasing power of British patients. Turkey's expanding dental tourism business has encouraged healthy competition among clinics, resulting in even lower prices.
The cost of veneers is between £200 and £400 per tooth in Antalya, depending on the supplies employed and the degree of the case. Many dental offices in Turkey provide veneers as part of package deals that include lodging, transportation to and from the airport, and other services.
The question "How Much Do Veneers Cost In UK?" is answered with the fact that UK veneers typically cost between £500 and $1,000 per tooth, which is more than twice the amount in Turkey. The materials used, the intricacy of the case, and the reputation of the dental clinic are just a few of the variables that affect the price of veneers in the UK.
Are veneers in Turkey a lot cheaper compared to the USA?
Yes, veneers in Turkey are a lot cheaper compared to the USA. The price of dental veneers in Turkey is considerably lower than in the US and Europe, regardless of the kind of veneers. Composite veneers amount to £199 in the US, but the price reaches thousands of pounds if many veneers are needed. Porcelain veneers cost between £398 and £1,993 in the US. The price, however, is between £159 and £320 in Turkey. Patients receive a package deal and reduce the whole cost even further if they need numerous veneers.
Many Americans view Turkey as a top location for dental tourism given that getting veneers in the country is significantly cheaper than in the USA. The enormous price disparity is caused by a number of causes including the lower operational costs in Turkey. Rent for clinics, utilities, and employee salaries are cheaper in Turkey compared to the USA, allowing clinics to charge less for their services.
Turkish dental clinics offer treatments at cheap prices due to the massive influx of foreign patients that they are receiving. The cost savings for American patients are further highlighted by the strong US dollar rate relative to the Turkish lira.
A highly competitive environment has resulted from the rising demand for dental tourism in Turkey, which leads to even more reasonable prices for clients. Patients must place choosing reputable clinics above everything else to guarantee they receive top-notch care, in addition to its financial benefit.
What are the different dental treatments available in Turkey aside from veneers?
The different dental treatments available in Turkey aside from veneers are listed below.
Teeth Whitening: Cosmetic surgery restores a smile by erasing stains and discolouration. The teeth are bleached using specialised solutions to lighten them by many shades. The procedure is carried out in-office for quick results or at home using personalised trays. It's a non-invasive way to make one's smile better.
Crowns and bridges: The shape and function of damaged or decayed teeth are restored through the use of crowns, which are coverings that are worn over the teeth. Bridges are utilised to substitute a number of extracted teeth by attaching to nearby healthy teeth or implants, "bridging" the space.
Dentures: Dentures are an option for those who have lost a lot of teeth. Complete and partial dentures both replace one or more teeth. They restore aesthetics and functionality and are made of metal or acrylic. An ergonomic fit is ensured by routine adjustments over time.
Tooth Extraction: Some teeth require extraction owing to deterioration, injury, or crowding. Straightforward extractions comprise teeth that are readily accessible, whereas surgical extractions require surgical incisions, and handle damaged or shattered teeth.
Dental Implants: Dental implants offer a long-term remedy for tooth loss. The jawbone is screwed with a titanium rod that serves as a prosthetic tooth root. It eventually fuses with the bone, offering a solid base. A custom-made crown or artificial tooth is affixed, providing both functionality and beauty. Dental prostheses in Turkey include top-notch implant structures, and cutting-edge dental technology to guarantee total dental care.
Root Canal Treatments: The surgery treats infections in the pulp or root of a tooth. The space is first scrubbed, the infected material is eliminated, and then it is covered. Root canal treatment stops the illness from spreading and keeps the tooth from being extracted. A crown is frequently applied for protection after that.
Orthodontics: Orthodontics fixes anomalies in the jaw and tooth alignment. Clear aligners, braces, or other devices are employed to progressively move teeth into their proper locations. Improvements in function, appearance, and general oral health are achieved after the treatment. Orthodontic procedures in Turkey are utilised to address a variety of tooth issues, due to their lengthy history of use and durable outcomes. The two most prevalent ones are incompatibility between the upper and lower teeth and asymmetry in the jaw anatomy.
Periodontal Treatments: The gums and ligaments holding the teeth in place are the focus of periodontal treatment. Treatments include extensive cleanings and operations to treat diseases including gingivitis and periodontitis. Healthy gums are necessary for good total oral health. The pocket, which is a space between the tooth and the gum that is invisible with bare eyes, needs to be treated. Periodontitis affects the bone surrounding the tooth, if treatment is put off.
Cosmetic Dentistry: Cosmetic dentistry attempts to enhance dental appearance in addition to oral health. Procedures including bonding to correct small flaws, white fillings or a more natural-looking substitute to silver amalgam fillings, and gum recontouring for a balanced grin are used to achieve such treatments.
Oral surgery: The procedures address complicated dental problems that need surgical intervention. The removal of impacted teeth, jaw realignment, bone grafting, and procedures for cysts or oral cancer are among the common surgical procedures. A wealth of highly competent and skilled maxillofacial surgeons and dentists with thorough training in the most recent surgical methods and technology is found in Turkey. The nation is home to cutting-edge, highly regarded hospitals and clinics that provide a wide range of oral and maxillofacial procedures to visitors from other countries.
Preventive Dentistry: Preventive dentistry, which is the foundation of good oral health, places a strong emphasis on routine exams, washings, and early treatments. Enamel is strengthened by fluoride treatments, and additional decay protection is provided by sealants.
Hollywood Smile: Hollywood smile design is a method for producing a glittering smile that radiates class and charm, much like the smiles of Hollywood celebrities. Istanbul Dental Clinics provides a range of procedures such as porcelain veneers, dental implants, teeth whitening, smile makeovers, and braces. Such procedures give a person a beautiful and realistic-looking smile by improving the look of their teeth, correcting alignment issues, addressing flaws, and replacing missing teeth.
Smile Design: Smile design is a method of reshaping one's smile into a piece of art using a variety of dental procedures, including cosmetic dentistry, dental veneers, and restorative dentistry. The answer to the question, "Are dental treatments popular in Turkey and are they worth it?" is "yes," particularly with the smile design. Dental Clinics in Antalya, Turkey are experts at designing gorgeous smiles that increase self-confidence and exude elegance. They prioritise comfort and happiness and offer a customised strategy, cutting-edge methods, and skilled experts.