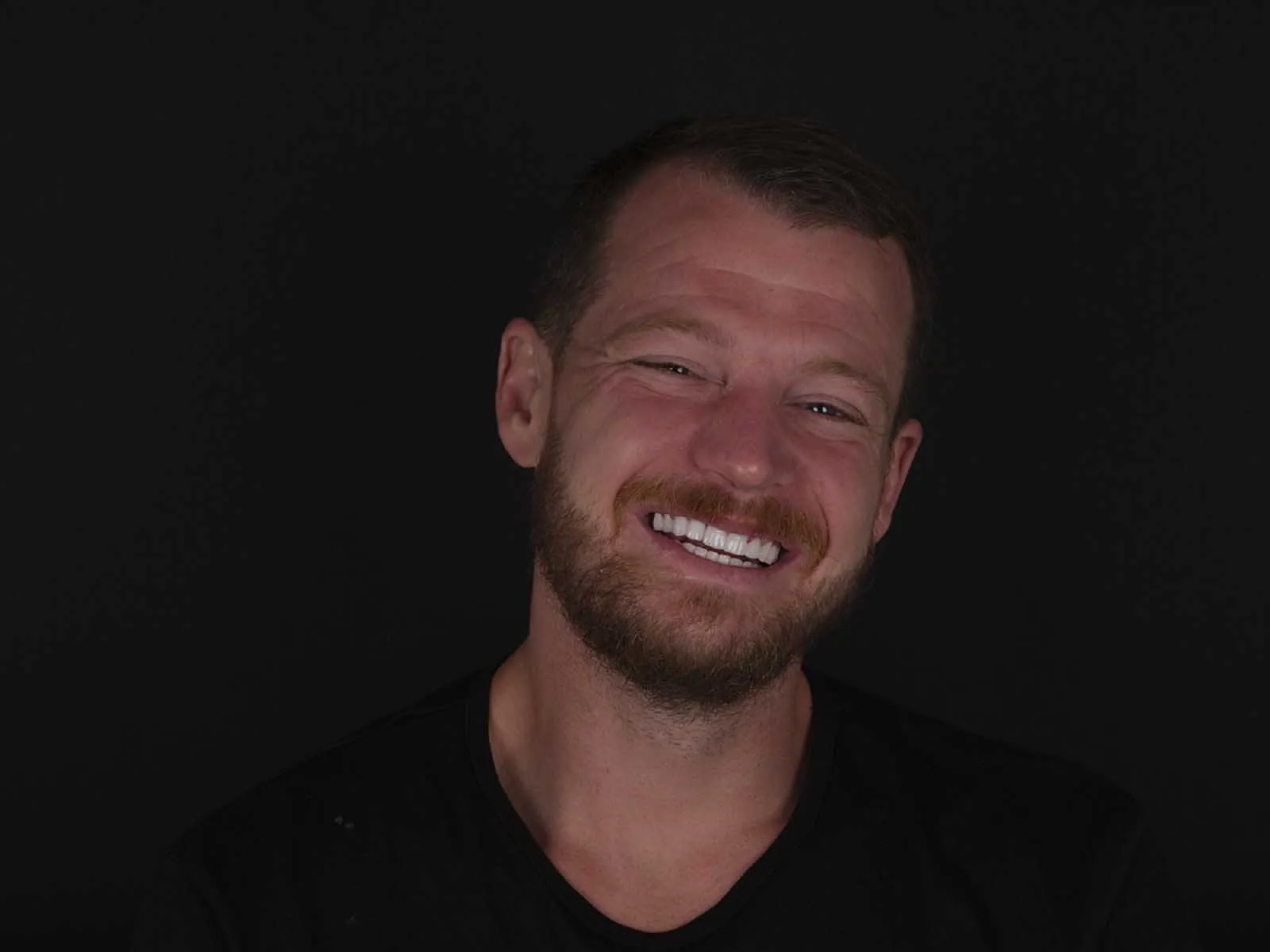 Dental veneers are thin, custom-made shells composed of porcelain or composite resin that are used to improve the look of teeth by covering their front surface. Dental veneers are a standard cosmetic dentistry procedure used to remedy concerns such as discolouration, slight misalignment, gaps, and damaged teeth. They are painstakingly created to fit in with natural teeth, giving patients a more aesthetically attractive smile.
Significant cost reductions are among the most notable advantages of obtaining a full set of veneers in Turkey. Turkey has established itself as a centre for high-quality dental operations for a fraction of the cost observed in nations such as the United States and the United Kingdom. Turkey has contemporary dental facilities with innovative equipment and highly qualified dental specialists, assuring top-notch service.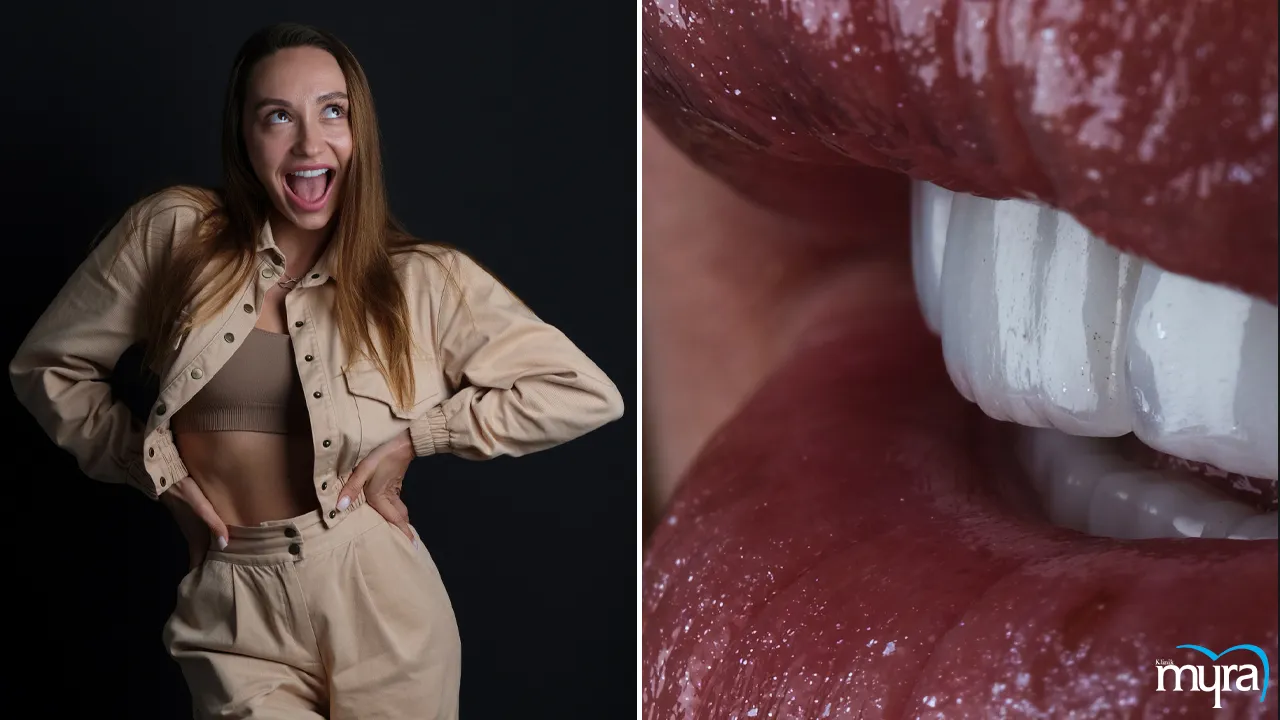 There are multiple disadvantages to using full-set veneers in Turkey. International patients face difficulties due to language issues and cultural differences. Aftercare and follow-up consultations are more difficult for those travelling from overseas.
Veneers in Turkey are substantially less expensive than those in the US and the UK, as seen when comparing the prices. Costs in Turkey vary based on the kind of veneer material, with some alternatives starting as little as £140. The cost of a full oral veneer treatment in the UK is as expensive as £15,000, in contrast to pricing in the USA, which ranges between $1,000 and $3,000 per tooth, which is £793.54 and £2380.62. Turkey's affordable veneers, along with its high-quality dental treatment, make it an appealing option for consumers seeking cosmetic dental modifications, delivering significant savings without sacrificing the desired aesthetic outcomes.
Dental veneers are a cosmetic dental procedure that is used to improve the look of teeth. Full-set veneers in Turkey provide cost reductions, but possible drawbacks include language and aftercare difficulties. Turkey is a far more affordable alternative than the US and the UK when comparing the price of veneers, making it a desirable option for anyone looking for a high-quality but reasonably priced way to improve their smiles.
The seven advantages of full-set veneers in Turkey are listed below.
Advanced dental care: Advanced dental care in Turkey refers to the use of cutting-edge technology, highly experienced dental experts, and cutting-edge procedures in delivering dental treatments such as full-set veneers. Patients anticipate excellent service, guaranteeing that their dental requirements are satisfied with the most recent developments in the industry.
Cost savings: Savings on full-set veneers in Turkey are much lower than in many Western nations such as the United States or the United Kingdom. The benefit reduces the cost and increases the accessibility of high-quality dental treatments for a larger population.
Minimally invasive procedure: Full-set veneers are often carried out in Turkey using the technique. The natural teeth are preserved as much as possible while getting the desired aesthetic results by the dentist by simply removing a little portion of tooth enamel.
Efficient process: An efficient process in Turkey entails simplified dental treatments, from first consultations through full-set veneer completion. Turkish dental offices often place a high value on promptness and comfort, ensuring customers get the smile improvements they want without undue delays.
Boosted self-confidence: The emotional and psychological advantages of full-set veneers in Turkey are best shown by the advantage, which is increased self-confidence. People feel a considerable increase in self-confidence and an improvement in their general quality of life when their teeth and smile are improved.
Enhanced smile aesthetics: Full-set veneers significantly improve how the teeth and smile look. It is referred to as enhanced smile aesthetics. These veneers are able to address several aesthetic problems, such as discolouration, misalignment, or abnormalities, leading to a more attractive and harmonious smile.
Combination of dental care and travel opportunities: The advantage emphasises the distinct aspect of dental tourism in Turkey, which combines dental care and travel opportunities. Patients have a complete and rewarding experience while receiving dental treatments by having access to top-notch dental care and the chance to see Turkey's cultural landmarks and natural beauties.
1. Advanced dental care
The advanced dental care provided in Turkey is one of the apparent advantages of receiving full-set veneers there. Turkey has recently established prominence as a centre for high-quality dental operations, including veneers, owing to its cutting-edge dental facilities and highly qualified dental staff. The advanced dental care and accuracy of veneer installations are guaranteed by Turkey's state-of-the-art dental care for patients.
Advanced dental care is essential. Veneers are cosmetic dentistry that covers teeth with a thin shell of porcelain to enhance their look and fix numerous flaws. Precision is critical to the procedure to produce the desired cosmetic effects while keeping the natural functioning of the teeth. Dental experts in Turkey who provide sophisticated dental treatment have access to cutting-edge tools, including digital imaging and 3D scanning, which facilitate accurate planning and execution of veneer operations. Turkish dentists often undergo intensive training and keep up with the most current procedures and materials so patients get the finest treatment possible.
Choosing to get veneers in the United States or the United Kingdom is much more costly because of the higher cost of living and healthcare services in these countries. A higher level of care is not guaranteed. Many dental clinics in Turkey provide the same degree of skill and use materials that are well recognised, meeting or exceeding the standards of their Western counterparts. Veneers in Turkey offer cost savings and modern dental treatment comparable to or better than in the US or UK. The combination of value and excellence makes Turkey a desirable location for anyone seeking sophisticated dental treatment, including full-set veneers, strengthening Turkey's allure as a destination for dental processes.
2. Cost savings
Cost savings are a significant advantage of choosing full-set veneers in Turkey, and its financial advantage is significantly pronounced when compared to veneers obtained in the United States or the United Kingdom. Full-set veneers, which ultimately alter a person's smile by concealing all visible teeth, are often expensive dental surgeries in Western nations owing to the high expenses of labour and healthcare. Veneers are among the dental procedures typically for much less money without sacrificing quality or skill in Turkey. Its accessibility alters the game for those looking to enhance the appearance of their teeth since it makes the ideal smile much more achievable.
The importance of cost savings for veneers in Turkey rests in the accessibility it offers to a larger audience. Cosmetic dentistry improves dental health, raises self-confidence, and improves general well-being. It is not only about appearance. Turkey gives those who otherwise find such operations financially burdensome the chance to have veneers for a fraction of the cost compared to Western competitors. The opportunity to invest in one's looks and oral health due to the accessibility eventually improves one's quality of life. Cost savings in Turkey make full-set veneers a realistic and affordable choice for those looking to improve their smiles, highlighting the significance of considering the advantage when making decisions regarding dental care.
3. Minimally invasive procedure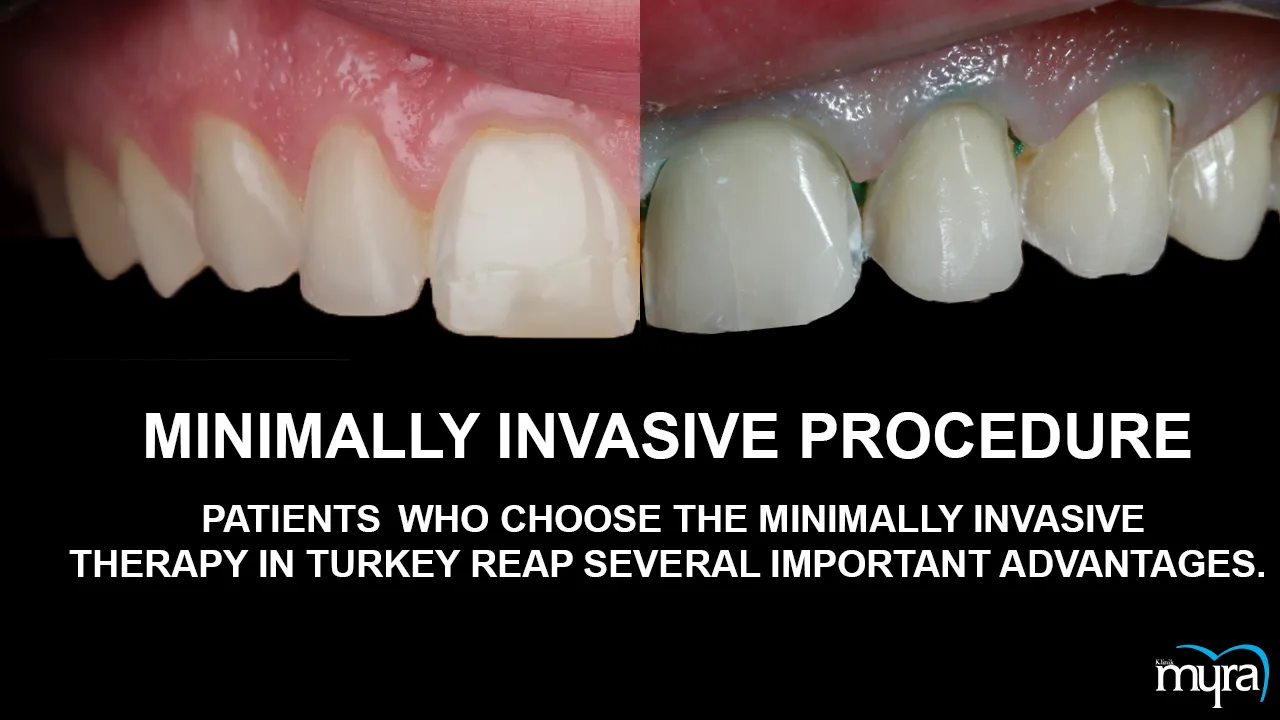 The focus on minimally invasive procedures is one of the significant advantages of choosing a full-set veneer surgery in Turkey. The technique emphasises the significance of keeping as much of the original tooth structure as is feasible while still attaining the desired aesthetic results. Patients who choose the minimally invasive therapy in Turkey reap several important advantages.
The operation in Turkey is minimally invasive, which means that patients experience less pain and have a quicker recovery than with more intrusive methods. The necessity for severe tooth reduction or removal, which is frequent in certain other nations, such as the USA or UK, is reduced by the method. Patients in Turkey typically experience less post-operative discomfort and return to their normal routines more quickly, enhancing their overall comfort and convenience.
Maintaining the natural tooth structure is crucial because it helps the veneers stay strong and durable over time. Patients preserve the health of their teeth by choosing the minimally invasive technique in Turkey, which lowers the possibility of issues or harm from excessively harsh dental preparations. The strategy aligns with current dental procedures that give equal weight to oral health and aesthetics.
4. Efficient process
Getting full-set veneers in Turkey has several benefits, one of which is the efficient process. Efficiency here refers to how quickly and smoothly the veneer application process is carried out from consultation to application. Its effectiveness is very important for people who want to improve their teeth because it saves time and lowers the overall cost of the treatment.
Turkey often stands out as a more effective choice when compared to the procedure for getting veneers in the USA or UK. A more streamlined and quick procedure is possible in Turkey since cosmetic dentistry is a speciality in which dental facilities and practitioners are well-known to be skilled and experienced. Patients often obtain consultations, treatment plans, and veneer applications quicker than in many Western nations. People with hectic schedules or those who want to alter their smiles quickly find it to be very helpful.
Another important thing to consider is how cost-effective the process is in Turkey. Turkish dental clinics often provide lower pricing for veneer procedures than their Western counterparts while keeping high standards of quality. Turkey is a desirable location for those seeking dental veneers because of its low cost and efficient procedure, highlighting the value of an expedient procedure in comparison to getting veneers in the USA or UK.
5. Boosted self-confidence
A prominent benefit of receiving a complete set of veneers in Turkey is the enormously boosted self-confidence that follows the surgery. A person's general well-being and quality of life are greatly influenced by their self-confidence. Veneers, which are thin, custom-made shells bonded to the front of the teeth, improve a person's smile by concealing flaws, including discolouration, misalignment, or cracked teeth. It improves one's physical look and significantly affects one's confidence and sense of self.
The cost issue distinguishes obtaining veneers in Turkey from having the process done in the USA or the UK. Turkey has become a popular dental tourism destination, providing high-quality dental procedures for a fraction of the cost of Western nations. Its affordability allows people to have dental procedures like full-set veneers without breaking the budget. More individuals are able to afford to have the smile of their dreams and gain a lot more self-confidence than they have been able to in their own nations. A higher level of self-assurance results in better social interactions, expanded career options, and an overall higher standard of living.
6. Enhanced smile aesthetics
Enhanced smile aesthetics stand out as a persuasive advantage to selecting full-set veneers in Turkey, and it is especially significant compared to receiving veneers in the United States or the United Kingdom. Veneers are a cosmetic dental treatment that significantly enhances the look of one's smile by treating problems, including stains, gaps, and inconsistencies in tooth size and form. These operations are sometimes more reasonably priced than in Western nations in Turkey, where trained dental experts provide them with an acute eye for attaining natural, harmonious outcomes.
A beautiful and confident smile significantly affects someone's self-esteem, social interactions, and general quality of life. The capacity to smile openly and interact confidently in social and professional situations is hampered by dental self-consciousness. Full-set veneers in Turkey provide a cost-effective way to develop a mesmerising smile, restoring confidence and enabling people to present a favourable image to the outside world.
Choosing Turkey for veneers over the USA or UK gives a budgetary benefit without sacrificing dental care quality or cosmetic results. Individuals have the chance to invest in the aesthetics of their smiles because of their increased financial freedom. Patients anticipate top-notch outcomes due to Turkey's longstanding reputation in the field of medical tourism, as well as its cutting-edge dental facilities and highly skilled practitioners. The allure of enhanced smile aesthetics achieved with full-set veneers in Turkey contributes significantly to one's emotional well-being and overall sense of fulfilment, highlighting the significance of the benefit when thinking about veneer procedures.
7. Combination of dental care and travel opportunities
The combination of dental care and travel opportunities is a notable advantage of opting for full-set veneers in Turkey. Its exclusive offer uses the nation's diverse natural beauty and cultural legacy as a setting for top-notch dental care. Turkey offers a comprehensive experience that combines first-rate dental treatment with the chance to tour an alluring location, in contrast to the USA or the UK, where the emphasis is solely on the operation itself.
The combination of dental care and travel opportunities is crucial because of the additional value it offers to those who need dental care. The main goal is to improve a person's smile, but the chance to learn about Turkey's lively culture, see historical sites, and enjoy beautiful scenery turn the process into a memorable and educational trip. The dual advantage makes the dental experience more pleasurable and helps patients calm and de-stress before and after the procedure, contributing to their overall recuperation. Veneers in Turkey are often a more appealing alternative than in the USA or UK because of the cost advantages in Turkey and the combination of these vacation options.
What is dental veneers?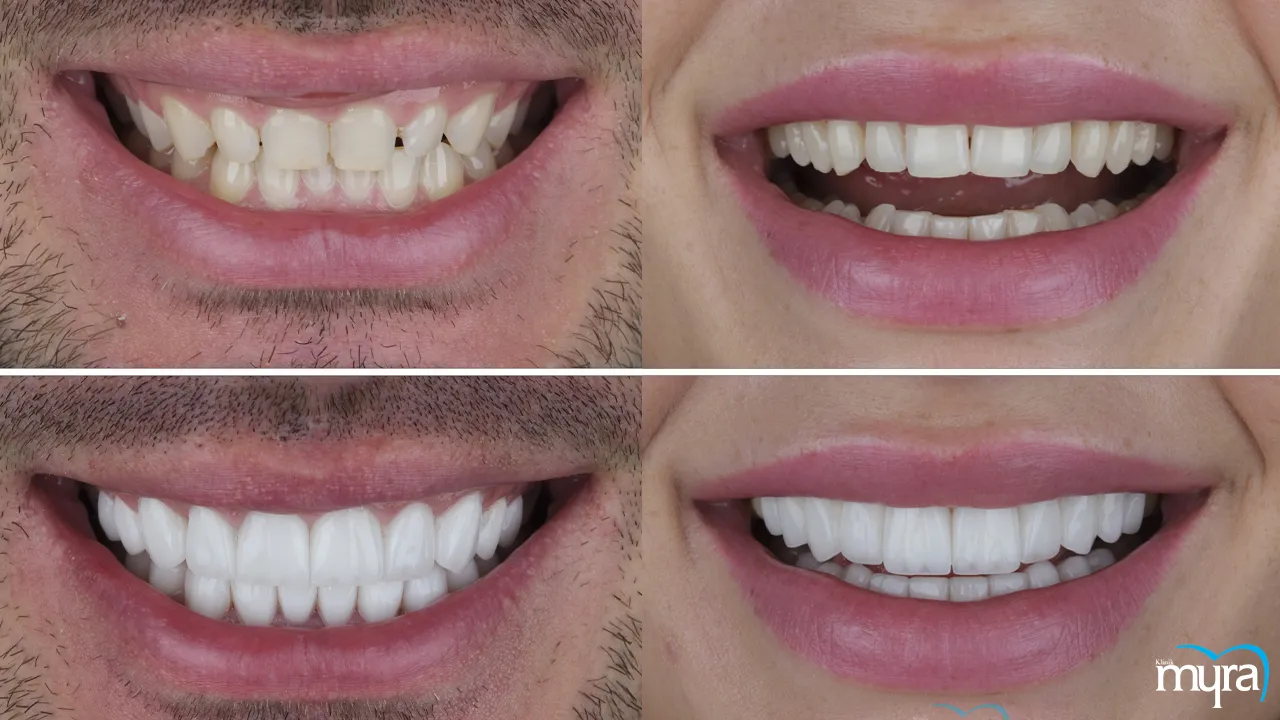 Dental veneers are small, individualised covers for the front of teeth, often formed of porcelain or composite resin. They are a favoured cosmetic dentistry procedure that enhances the look of teeth by improving their size, shape, colour, or general attractiveness. Veneers are painstakingly crafted to meld perfectly with the patient's natural teeth, resulting in a unified and alluring smile. A dentist or dental expert prepares the tooth's surface by removing a little bit of enamel, which is generally modest compared to other dental procedures, to ensure a suitable fit for the veneer. The veneer is firmly attached to the tooth once it has been produced, effectively hiding flaws such as discolouration, stains, cracks, or slight misalignment. Dental veneers supply a dependable and long-lasting choice for anyone looking to improve the appearance of their smile, often leading to a more assured and attractive look.
Is there any disadvantage in getting full-set veneers in Turkey?
Yes, there is a disadvantage to getting full-set veneers in Turkey, although these considerations vary depending on individual circumstances and the specific dental clinic chosen. The need for overseas travel, which is cumbersome and raises the expense of the operation overall, is one possible downside. Patients must budget for travel, lodging, and transportation, which is unnecessary if the treatment is performed close to home. Language issues make it challenging to communicate, making it more difficult to understand instructions and postoperative care. There are variations in the quality of care among Turkish dental clinics, so it is essential to conduct extensive research and choose a reputable clinic with a proven track record.
Some people are concerned about follow-up care and maintenance, particularly if they have veneer problems after returning home. Long-distance appointments for adjustments or repairs are more difficult and time-consuming than having the process done locally. Patients must consider the likelihood of different dental laws and insurance coverage, which affect the full-set veneer experience and expenses in Turkey.
Is dental veneers expensive?
Yes, dental veneers is relatively expensive. Dental veneer prices vary based on various variables, such as the material used (porcelain or composite resin), the location of the dental office, the standing and qualifications of the doctor, and the number of veneers required. Porcelain veneers are more expensive than composite resin veneers because of their improved durability and natural look. The entire cost goes up if an individual needs veneers for many teeth. The location of the dental clinic has a significant effect on the price, as clinics in urban areas or regions with a high cost of living tend to charge more. Dentists with more experience and knowledge charge more for their services. It is another factor to consider.
Turkey has established a reputation as a more affordable choice compared to several Western nations, such as the USA or the UK, regarding the price of veneers. The cost of living and healthcare services are often greater in these Western countries, which raises the price of dental care, including veneers. Veneers are often more economical without sacrificing quality in Turkey, however. Patients locate fully-stocked dental offices with highly competent staff members who charge reasonable fees for veneer operations. Dental veneer prices are greatly influenced by geography, even if other elements, including the material used, the intricacy of the case, and the dentist's reputation, all have an impact.
The cost of veneers is driven by the materials and expertise needed to create custom veneers that fit flawlessly and look natural. It answers the commonly asked question, "Why are Veneers so Expensive?" The technique calls for accuracy and knowledge, which means greater professional expenses. The impressive visual benefits that veneers provide make the initial expense, while it appears high at first, worth it to many people.
How much does dental veneers cost in Turkey?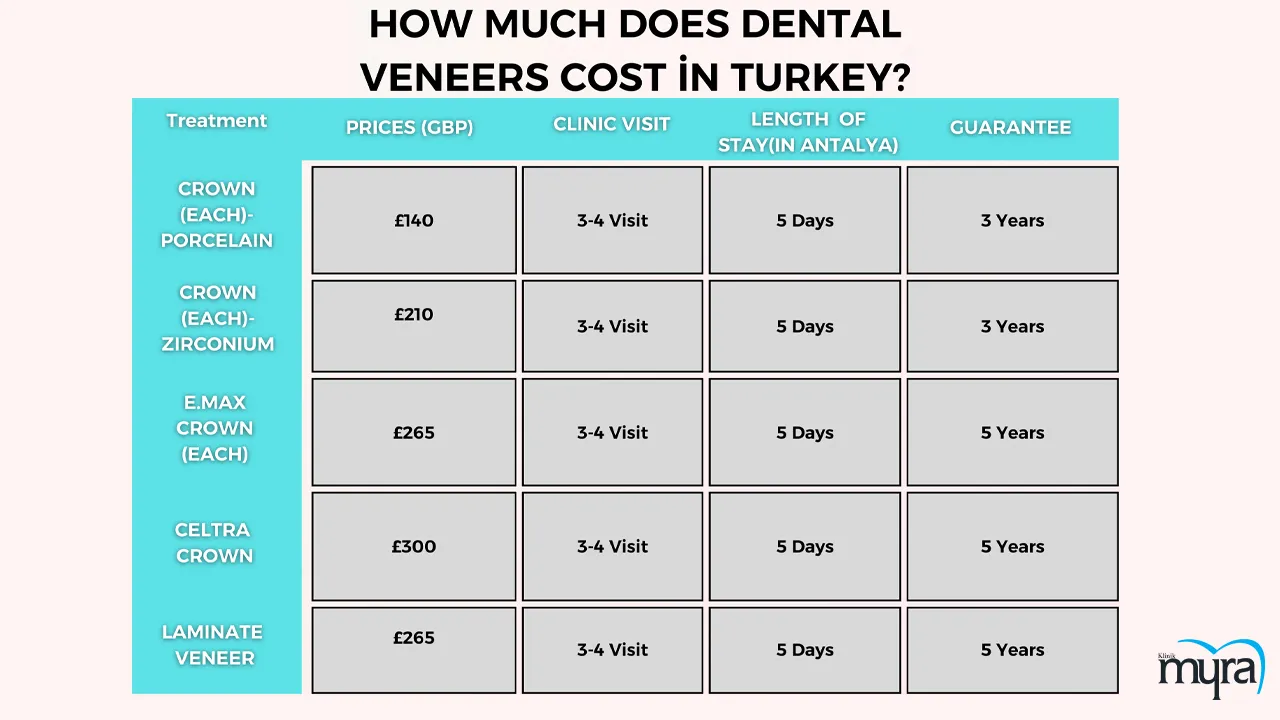 The cost of dental veneers in Turkey changes according to the type of veneer material used. For instance, Porcelain Crown/Full Veneers cost £140, but Celtra Duo Laminate Veneers and Celtra Duo Crown/Full Veneers cost £300 each. E.Max Crown/Full Veneers and E.Max Laminate Veneers cost £265 each, whereas Zirconium Crown/Full Veneers cost £ 210. These costs are approximations and change significantly based on the dentist's office, the particular situation, and other elements. These costs in Turkey are frequently noticeably more affordable when compared to the cost of veneers in many Western countries, without sacrificing the quality of the materials or the expertise of the dental specialists, making Turkey an appealing option for people looking for reasonably priced but high-quality veneer treatments.
How much does dental veneers cost in Turkey compared to the USA?
The cost of dental veneers in Turkey is generally significantly more affordable compared to the USA. The average cost of a dental veneer in Turkey is roughly €155 or £140. The final cost varies based on the amount of veneers required and the kind of material utilised.
Dental veneers, on the other hand, are far more expensive in the USA, with prices often ranging between $1,000 and $3,000 per tooth or approximately £793.54 and £2380.62. The cost of dental treatment in the United States, including veneers, tends to be on the higher side owing to the country's higher cost of living and healthcare services.
Individuals travelling to Turkey from the United States interested in veneer treatments possibly save a significant amount of money, even after taking in travel expenditures. The low cost of veneers in Turkey makes it an appealing alternative for people looking to improve their smiles without breaking the bank since it provides professional dental treatment at a more reasonable price point. Verify that the selected dental clinic in Turkey maintains high standards of care and employs quality materials to obtain the desired outcomes.
Are dental veneers more affordable in Turkey compared to the UK?
Yes, dental veneers are more affordable in Turkey compared to the UK. Veneer treatment costs in Turkey are reputed to be among the lowest in the world. Turkey has been a popular destination for those seeking veneer operations because of the low cost and the treatment's excellent success rate. Veneers are typically priced in Turkey following a comprehensive pre-examination that takes into consideration the unique demands of each patient. The costs in Turkey sometimes include transfers, lodging, transportation, and counselling services, giving patients an all-inclusive package.
The United Kingdom, on the other hand, is renowned for its pricey healthcare, which includes veneer treatments. The answer to the question "How Much Do Veneers Cost In UK?" is that veneer costs in the UK are much more than in many other nations, including Turkey. A full set dental veneer costs at least €15,000 or £12835.10 in the UK. The degree of comfort in hospital clinics in the United Kingdom varies, and some patients have reported worse success rates for veneer procedures in the United Kingdom compared to Turkey. Turkey compares well to the United Kingdom, where costs are typically at least twice as expensive in terms of cost-effectiveness and treatment results for those seeking veneers.
Is dental crown the same as dental veneers?
No, dental crowns and dental veneers are not the same; they perform various functions and need separate dental treatments. Dental crowns, sometimes called "caps," are restorative dental procedures that cover and preserve damaged or weaker teeth. They enclose entirely the visible area of a tooth above the gumline. Dental crowns are often advised when a tooth has considerable decay, a big filling, a fractured or damaged structure, or has had root canal treatment. The crown restores the tooth's function and look by providing strength, stability, and protection. Crowns are built of a variety of materials, including porcelain, metal, or a mix of the two, depending on the therapeutic demands and cosmetic choices of the patient.
Dental veneers, on the other hand, are essentially aesthetic dental procedures used to improve the look of teeth. Veneers are thin shells made of porcelain or composite resin that are solely adhered to the front surface of the tooth. Veneers treat cosmetic issues such as tooth discolouration, slight misalignment, gaps, and chipping. They do not give the same structural strength as dental crowns and must not be used on teeth that need extensive restorative surgery.
Dental crowns and dental veneers are dental treatments that make teeth look better, but they do different things. Crowns are generally restorative in nature, while veneers are primarily aesthetic in nature. The decision between the two is influenced by the individual's dental demands and intended result, as well as the dentist's suggestion based on a complete examination of the patient's oral health.
What is the difference between dental crowns and dental veneers?
The differences between dental crowns and dental veneers are listed below.
Tooth Coverage: Crowns cover the whole tooth and provide aesthetic and functional advantages. Veneers cover just the front surface of the tooth, improving its look but not necessarily considerably strengthening it.
Aesthetic Enhancement: Crowns enhance the appearance of a tooth, but their primary function is to protect and strengthen the tooth. They are often utilised for teeth with structural problems. Veneers are used for cosmetic reasons and are largely focused on improving the looks of a tooth.
Purpose: Dental crowns are mostly used for restorative reasons. They are applied to teeth that are severely damaged, decaying or weakened. Crowns cover the whole tooth above the gumline, providing structural support and protection. Veneers are mostly cosmetic in nature. They are used to enhance the look of teeth that have minor cosmetic concerns such as stains, discolouration, slight misalignment, gaps, or chipped edges. Veneers solely cover the tooth's front surface.
Tooth Reduction: The tooth getting a crown generally needs more extensive remodelling, requiring the removal of a large portion of enamel. Veneers are less intrusive regarding tooth reduction, often needing just a little enamel removal.
The use of dental crowns as an alternative to dental veneers is dependent on the individual dental condition. Crowns are not a direct replacement for veneers when the main concern is aesthetics since they need additional tooth reduction and are unnecessary for structurally healthy teeth. A crown, on the other hand, is considered if a tooth needs structural support and aesthetic enhancement.
The costs of dental crowns vary depending on the material used. For example, porcelain crowns cost £140, whereas zirconium crowns cost £210. The cost of E.Max crowns is £265, whereas Celtra crowns are £300 in Turkey. These are estimates, and actual costs vary based on the dental facility, location, and unique case needs. Contact a dentist in Turkey for an exact price based on the specific requirements.