Due to the economic crises affecting the whole world, the economic purchasing power of individuals decreases. For many reasons, dental work is cheaper in Turkey. Many of the European countries that have changed their health policies due to the global crisis are excluding their citizens dental treatments from insurance coverage. In particular, state and private insurance do not cover the cost of veneers and dental implants if they have high-cost. The patient has to pay for these implants and veneers byself. For this reason,people who face high costs for dental treatments are starting to turn to Turkey, Mexico, Hungary and else which offers fast, quality and guaranteed dental treatment alternative. Because the costs of dental treatments in Turkey is cheaper than many European countries and the United States.
Health tourism, which is very popular in Turkey and in the world recently, attracts the attention of many people. In particular, tooth implant and zirconia crown prices in Turkey, compared to Europe in terms of price is quite suitable in recent years. However, the unit value of currencies such as dollars, euros or Sterling used in Europe and the United States is more than the unit value of the Turkish lira. This makes it easier to cover the costs of treatment, especially for patients who come from abroad for tooth veneers, implants or smile aesthetics.
Patients who come from abroad for treatment are most likely to come for dental implant treatments and zirconia-porcelain crown bridge treatments
The most important consideration when comparing the price of dental treatments is the comparison of the same treatment methods with the same brand materials. For example, when comparing the price of implants or veneers made in European countries and Turkey, it is necessary to compare the prices of dental treatments that will occur when the same branded products are used by doctors with the same experience and expertise. From this point of view, the costs of treatments in Turkey are quite affordable compared to the United States, the European countries and the United Kingdom. In particular, patients living in Europe have dental treatments in Turkey and have the same quality and service at a more affordable price.
So Why Are Dental Treatment Prices Cheap in Turkey?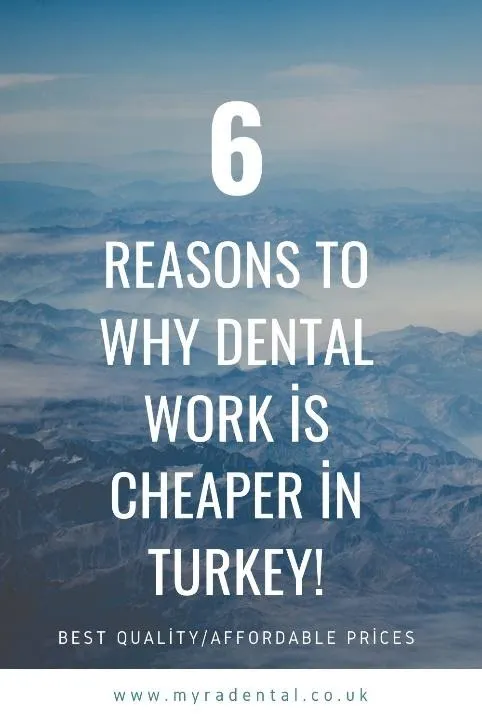 1. Product costs determined by firms.
The world famous companies that produce and market dental products determine prices according to the conditions of that country when selling products to dentists. For example, the cost of the same brand implant to a dentist in Germany or the UK is higher than that of a dentist in Turkey. Excess tax rates in Europe and the United States are the most important reason to raise prices.
2. In Turkey, the cost of laboratories that dentists receive from treatments is lower.
The lower unit time costs of all the staff working in the clinic, as well as, dentists significantly affect the cost of dental treatment. Labor in dental treatments accounts for the bulk of the cost. In countries such as Germany, Netherlands, Sweden, Switzerland, Austria, maxillofacial surgeon and dental prosthesis specialist treatment fees are very high. For this reason, because not every dentist can do these treatments that require expertise, dentists have to call a doctor to their clinics either part-time or they can not do these treatments at all. In this case, dental treatment prices and implant prices are more in these countries.
Low clinical costs
Clinical equipment in Turkey, real estate and billing expenses of clinics are much cheaper than in European countries. All these expenses affect the unit price of treatments.
4. Foreign exchange difference
When you pay for your dental treatments in Turkey using a higher currency value, you can pay less by taking the same treatment method with the same materials and quality.
Low laboratories costs
Laboratory fees during dental treatment in Turkey are cheaper than in European countries for the reasons mentioned above. because the material costs of zirconia, Emax or metal supported coatings and the labor costs of technicians are low. Also, laboratory fees, bills, or ancillary staff costs are not included in the treatment plan provided to you. the fee you pay is only the cost of treatment materials and the labor that the dentist determines in your treatment.
Easy access to Turkey and accommodation
It is possible to find a large number of flights from many European countries without connecting to Antalya, Turkey. Besides, flight tickets are quite convenient. In addition, the price range of accommodation facilities in Antalya, Turkey has a very wide choice.
The quality of dental health treatments does not vary according to the country of treatment. Our clinics guarantee that they work carefully and painstakingly with their advanced technology devices. With the guarantee certificate that will be given after your treatments, you can get free support for the implant treatment for life and for other treatments for 5 years.
And wherever you are in the world, you can access your specific dental treatment plan with a click. To restore your dental health, complete your missing teeth with the most appropriate treatment methods and have a more aesthetic smile, send a photo of your teeth with an X-ray of your mouth to Myra Dental Centre Turkey on the WhatsApp or e-mail, and we'll reach you. We will provide you with a specific treatment plan prepared by our specialist physicians as soon as possible.
Write us on Whatsapp now +90 543 938 3350