Many Turkish dentists are kind, honest and very talented and skilled in dentistry. Make sure that Turkish dentists are considered one of the most successful dentists in the world. The biggest new teeth budget is savings opportunity: travel to Turkey for affordable dentistry. Today, many people travel to other countries with more favourable offers for get new teeth.
For some patients, local dental bills are very high. Some just want to avoid taking credit or spending their savings. Dental treatments in Turkey contain reasonable prices and options for all age groups. We help people from all income levels, from hard-income retirees, students, families, celebrities and entrepreneurs to high-income CEOs.
Exploring dentistry in Turkey? We've prepared this article to find out the pros and cons of going to a Turkish dentist.
Top 8 Advantages of Going to the Dentist in Turkey
Saving Thousands Of $S With Affordable Dentistry İn Turkey
You can save thousands of dollars by going to a dentist in Turkey for the same treatment. Many people who need a full set of veneer can save $40,000 to $25,000 in their dental costs.
With a dentist in Turkey, you can save 60-70% of the cost of dental work.
A single tooth can save $3,500 alone in the Straumann brand implant and Emax crown. On the same day in Turkey, you need root canal treatment, you can save $800. Looking for a dentist to get a denture, you can save $1,350.
You can make an appointment in the US months later for a simple canal treatment. You will have to pay more than $2,500 for a canal treatment and a crown.
Your root canal treatment and 1 Emax crown with One Day Dentistry are ready in 1 day and cost only $400.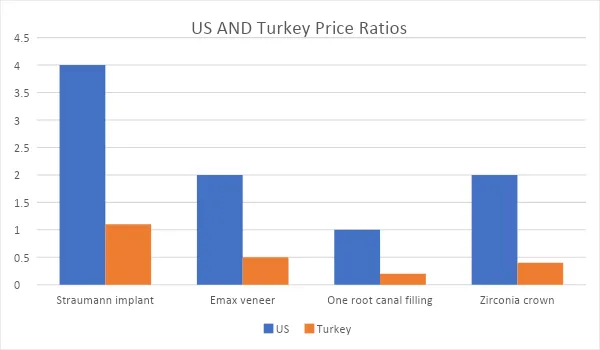 But the great attraction to going to a Turkish dentist is when you need great dental work. Examples include various dental implants in Turkey, dental bridge, extraction or zirconia crowns. These savings are a few thousands of dollars up to enormous savings.
Some U.S. major dental jobs- like $30,000, $70,000, or even $90,000. You're wondering who can afford these dental bills.
With these savings, you can take a long break anywhere. And you can be sure, you still won't have to worry about your remaining money.
You can also get dental work with a Turkish dentist in Antalya. Even the extra expenses of your dream holiday, you still make money.
First, makes an appointment with the local dentist. You can compare US vs. Turkish teeth prices when you know what you need. If you need great procedures, you'll have thousands of savings.
If you're planning a trip, you can balance your travel costs for small procedures, such as cleaning or filling.
All Dental Specialist İn An Dental Centre
Dental Centres in Turkey practice in a single clinic with all specialist: Implant Specialist, Prosthodontist and Endodontist.
The majority of dental treatments in the U.S. or Canada are performed by a single dentist. Only one dentist is working in the dental office.
This big dental work becomes a challenge when needed. If you need a root canal filling, your dentist should first refer to an Endodontist in a different dental clinic. Many people have to wait at least 1 or 2 weeks to get a root canal appointment with an Endodontist and you don't know when it will finish.
Likewise, if you need wisdom teething, surgical procedure or high-risk surgery, your dentist will have to consult a maxillofacial surgeon. Some parts of the U.S. or Canada don't even have a maxillofacial surgeon in rural areas. Make sure this will take a long time.
Some U.S. and UK dentists perform dental studies that can be done by a top expert. Common examples include tooth implants, full mouth crown restoration, periodontal treatments, etc.
Your local dentists will direct you to specialist dentists for these treatments. We are happy to help you with this.
Many top Turkish dentists practice in dental centres. That means there are all the specialities in a dental clinic.
The root canal specialist can work on the root canal immediately after Turkish dentists consultation on the same day.
Dental implant patients benefit from having implant specialist and prosthodontist in the same dental centre.
If you need special dental work such as full mouth implant, a full set of veneers or All-on-4 implants, make an appointment with the MyraDental Centre.
You Get Guaranteed Dental Work
You will receive a 5-Year Warranty from Myra Dental Centre in Turkey. İf you have a problem with the treatment, we will help you under pre-determined warranty conditions.
Most U.S. or European dentists do not explicitly guarantee dental work; It is not common in the U.S. or European dental works.
If something goes wrong right after your dental work, they'll fix it. But if the dental business fails after a year, you may be applying limited.
Unlike this, dentists in Turkey generally provide a 5-year warranty for dental work. You'll get a five-year warranty from dentists at Myra Dental Centre.
If you have problems, you're going to have to Know that the Turkish dentist stands behind the quality of dental work and rest assured. Even if something happens, you can't leave the application. And at Myra Dental Centre, we even help you with warranty claims.
Ask your dentist before travelling to Turkey: "How many years do you get your dental work guaranteed?"
It's Easier To Make An Appointment With Turkish Dentists
Is it easier to get an emergency dental appointment? In fact, we transfer to Myra Dental Centre as soon as you get off the plane on the same day to get the dental work.
Did your crown fall? Do you need a root canal filling now? Need to get your full set of veneers before the wedding?
It is much simple to get a dental appointment from a dentist in Turkey. Why?
Because dentists in Turkey work more hours- much more hours. They work Monday through Friday from 08:00 to 19:00. They then work from 08:00 to 17:00 on Saturdays.
In contrast, many U.S. dentists work 3 to 4 days a week. It takes a long time to make an appointment. In the U.S. or in some parts of Europe, there are not just enough dentists. It can take months to get an implant appointment with a specialist. And maybe you need immediate implant placement. İt takes only one day in Turkey. With One Day Dentistry, you can get an implant in the same day.
Need dental work sooner? It is easier to get an emergency dental appointment with the dentist in Turkey, especially if there is a direct flight. For a full set of veneers, just 6 days is enough.
Getting Your New Teeth Done Faster
You can get a fixed denture on the implant within 4 days in Antalya. Get the first-day impression. 4 days later, you'll get your last dentures on implants. All-on-4 cost in Antalya: $10000. Compare the cost of this treatment with $30,000 to $70000 in the US.
Let's say you need a dental 3D tomography, a root canal treatment and crowns with 2 dental implants.
As soon as you get off the plane, our VIP service will pick you up and bring you to the Dental Centre. Your first examination is performed on your scheduled appointment and your examination begins with taking CT. The root canal treatment you need is finished within 1 hour. The Cerec CAD-CAM device prepares your crown while you are resting. When the crown of your root canal-treated tooth is pasted, you are prepared for implants by nurses. Your implant surgery will be completed in 1 hour and then your first visit treatment is over.
After 2 months, your over-the-implant crowns are ready in 1-hour thanks to digital dentistry in just 1 day.
3D dental tomography is free. Think about how much CT costs in America.Just 6 working days is enough for the treatment of a full set of veneers. With the All-on-4 protocol, you can get your new teeth in just 4 days with full-mouth implant therapy.
Dental technicians in Turkey also work very fast. Most dentists in Europe and the US send crown and veneer impressions to cheaper countries because they are more affordable. That's why it's going to be over in a long time. Of course, the lesser dentist and laboratory working hours are the reasons for this.
Digital dentistry applications have significantly shortened treatment times. Digital 3D printers and dental CNC systems reduced the treatment of full-set of veneers to one week, which could be difficult to finish in 3 weeks.
Dental centres and large dental laboratories, where many specialist dentists work together in Turkey, make this speed possible.
We're Not In A Hurry In Your Dental Business.
You are not rushed for any dental treatment in Turkey. The specified treatment protocols are fully implemented.
When you contact us for a first appointment, we understand what you want and we will prepare a treatment period for you. You will be guests as VIP, no doubt. Your appointments are planned and we will prepare for you.
When you go to a dentist in Turkey, you will never be rushed.
Appointments are prepared according to treatment planning. All necessary details are planned in the first examination. If the specified treatment period extends to us for reasons, we will welcome your extended stay and flight.
Appointments are planned according to your treatment needs.
Our personnel responsible for you will remain in constant contact with you.
You can even contact us when there is a problem with your accommodation in the hotel or something you are curious about in Antalya.
Your first examination appointment is scheduled for at least 1 hour.
30-minute appointments are planned for your treatment in Europe and the US. It is difficult to determine what you want and what you need during this time.
If a complicated treatment is required, you will experience the entire first examination process again in the specialist dentist, where the consultation is requested. Of course, you will be able to make an appointment after several days for the consultation.
We're listening. Trying to understand what you want. Trust us because we're trying to give you the best treatment.
Make a list of all the questions you want to ask us. Be sure to find the answers at Myra Dental Centre in Turkey.
Information Related To All Treatments And Prices Can Be Found Online.
We have all the prices on our website. You can find all the treatment details or ask us online. We will provide you with a provision when you contact us. You will not travel based solely on estimates.
At Myra Dental Centre, you will save at least 60% for the same treatment.
We would like to ask you some photos for the authorization price list. Also, send your x-ray if there is. We're giving you an offer when it's clear what you want and what kind of treatment you need to get.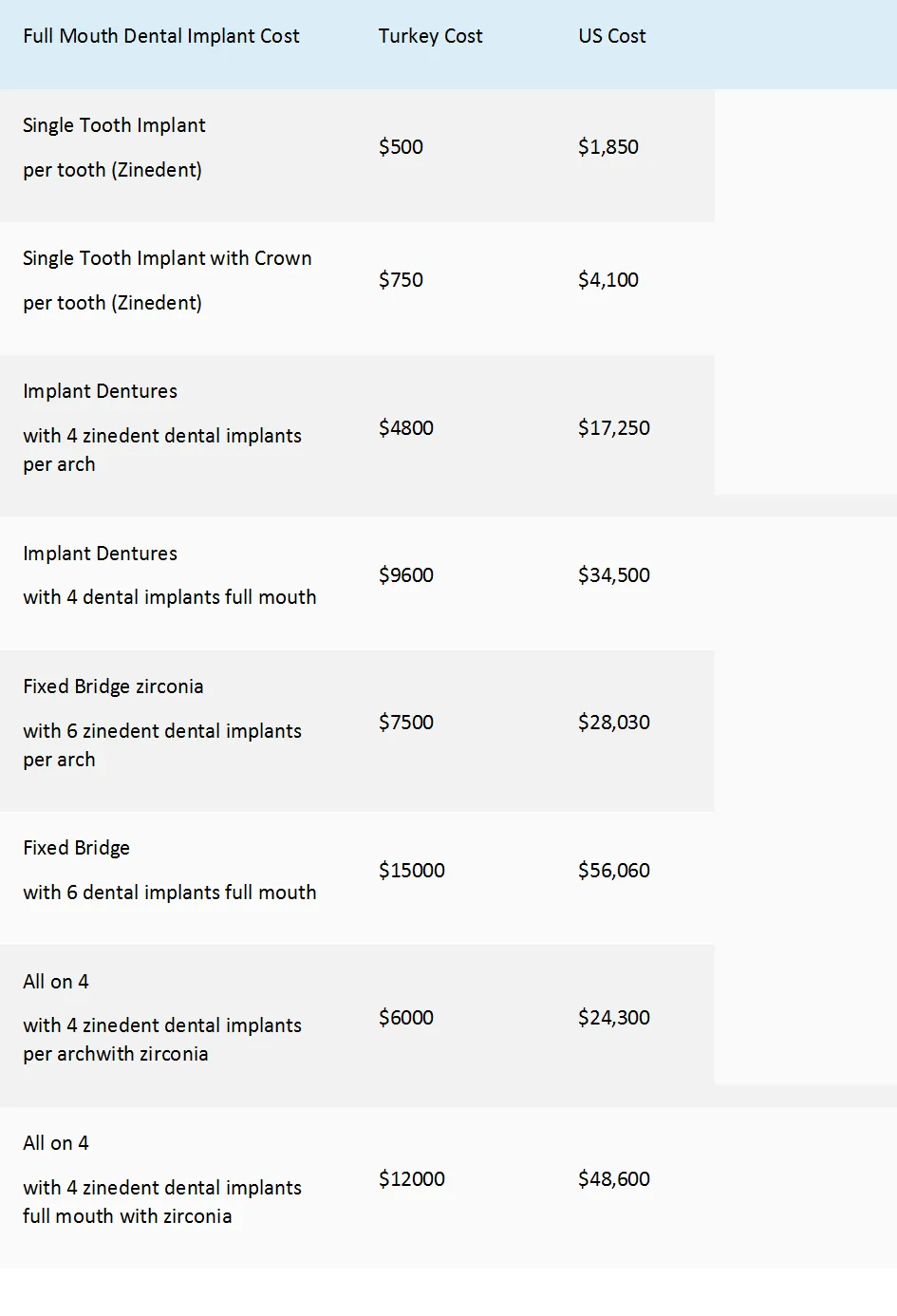 If there is a list of dentist treatments you have received before, we can give it a provision. You can compare all prices in this way.
You are going to be very advantageous and profitable in any way. Get new teeth in Turkey is certainly more affordable than the US and UK.
Please call us for all your questions.
Take A Holiday While Visiting A Turkish Dentist
Make an excellent holiday in Antalya, where nature meets history. You will be in one of the most beautiful cities in the Mediterranean.
Antalya is a paradise with sunny 300 days a year and excellent blue flag beaches.
It can be a great idea to come to Antalya for new teeth and also have a nice holiday. Many of the most beautiful hotels in the world are located in Antalya.
Travel costs do not cost $2,500 with flights from New York and a stay at a 5-star hotel. At this price, you can make a root canal filling and a crown in the US. You will make an incredible gain for the treatment of full mouth implants or a full set of veneers.
When you want an Emax full set of veneers, the price of this treatment in the US is approximately $40,000 or higher. You can only get the same treatment from Myra Dental Centre for $10,000 as an Emax veneer.
Make sure you think your vacation is short and you'll want to come back for.
Top 8 Disadvantages of Going to a Dentist in Turkey
You have to travel a lot
15 years ago treatment abroad for oral health was not seen as very advantageous for many people. But times have changed and many people who no longer think that way have started to travel more to other countries around the world for new teeth. Dental tourism in the world is one of the fastest-growing sectors. Turkey is one of the leading countries with its excellent technical infrastructure and quality dentists.
More people come to Turkey every year, especially from the UK and US, for dental treatments. Turkey has become a dental treatment centre, especially for Germany and Austria. Even celebrities now prefer turkey to get their teeth done.
The price differences of specialist dentists with the same technical equipment and the same skills are worth a fortune in the US and UK.
With more daily flights and excellent accommodation, you can have many advantages.
You can be treated on numerous appointments in 3 months at very burden prices in your country, or you can get a full set of veneers at much more affordable prices in 1 week.
You will only have to make a second visit to treat the implant.
With immediate implant placement protocol, you will be able to take an implant without waiting immediately after tooth extraction
With all-on-4 implant protocol, you will be able to get all full mouth implant treatment instantly. And after 5 days of treatment, you'll have temporary fixed teeth. On the second date, you will have $25000 in profitable and have new teeth after all your travel expenses are released.
A 4-hour journey from the farthest country in Europe is enough.
If you're not on the Mexican border for the US or if you're in Canada, Turkey promises you a more affordable and quality dental treatment than Mexico.
You can't have seen the whole world without seeing Turkey.
What language to speak.
You often need to speak the same language to get along. English and German are known to speak fluently by many dentists in Turkey. The staff who will be in charge of you in many dental centres are dominated by English and are ready to help you with everything.
All correspondence and technical forms are prepared in English or German. Whichever language you choose, we will be happy to help you in your language.
Make sure you get service in your own language when deciding for dental treatment in Turkey.
In this way, you are sufficiently enlightened and informed about all treatments and protocols.
Some Turkish dentists are not qualified to perform the necessary treatments
Carefully research the dental centre or dentist you have decided to come to for treatment. Most dental centres are not the same. Google reviews and patient references are very important.
Full mouth of implants treatment and a full set of veneers treatment requires the experience of knowledge.
There is no such treatment as simple treatment. Every treatment should be done carefully and attentively and should be finished most beautifully. Try to get services from specialist dentists and dentists with adequate experience and knowledge.
Dentistry education in Turkey is very difficult and high quality. The smartest children are entitled to dental education after exams. They can be dentists after 5 years of long training. For specialization, they need to study for an extra 5 years. Dental Centers choose the best to provide better quality treatments.
Turkish dentists are among the most successful dentists in the world. Many Turkish dentists are considered at the master level in the world. Turkish physicians are really successful in the fields of medicine and dentistry. Rightly, they have a reputation accepted by the world
Some Turkish dentists do treatments they're not authorized to do
Even most dental crowns cannot be delivered on the same day, without using the most modern Cerec CAD/CAM Thread Milling machine. Don't demand crowns on the same day if they don't have Cerec, because you can get low-quality crowns in Turkey. Ask if your dentist has Cerec, which can deliver the crowns on the same day.
New veneers require a 4-5 day process. It is not possible to produce faster without digital dentistry devices.
You will surely have to make a second visit to treat the full mouth implant in Turkey. You can only get temporary teeth on a single visit. When requesting crowns and veneers for new teeth, be sure to ask for information about technical equipment as well as about digital dentistry applications. Be sure to know if they have Cerec CAD-CAM devices and 3d dental tomography.
Quality Dental Centers in Turkey must have 3d dental tomography. Make sure it is very risky to treat the implant without 3D dental tomography, even if you need a full mouth implant or only one implant. With 3D dental tomography, the bone can be precisely monitored in 3D by a percentage of 1/20 of a millimetre. Also, implant application with simulation software can be done at a minimum risk.
Please note that being treated in the dentist with the competence to use these devices is very important for the success of treatment in the long term. A dentist should not do the treatment without expertise or does not have sufficient competence.
Some dentists in Turkey do not care about continuous training.
Continuous dental training is important in Turkey. State and dentistry associations cover pay special attention to this issue. It is very important to stay up to date in dentistry. Many national and international organizations provide opportunities for this purpose. Dentists with worldwide reputation and skills, especially in Turkey, are constantly training other dentists in this regard.
With the increase of digital technologies in our business and the proliferation of new applications in dentistry, the speciality branches have gained more importance. New devices and software, especially in the field of digital dentistry, have changed the quality of treatment and treatment times. For this purpose, competence can be gained with hundreds of hours of training and effort.
The devices and software required in this field are very expensive so; many dentists have to use old methods and old techniques. Therefore, even if they have theoretical knowledge, they still continue the treatments by conventional methods.
Ask questions about their equipment and competencies to the clinic before making a sure decision. Also, make a decision by doing research on yourself on the Internet.
With the increase in the number of patients coming from abroad, many dentists will claim that they can perform the same treatment in the same quality and time.
Make sure to consider the comments and videos of previous patients when making decisions.
No dental financing
Insurances and institutions belonging to your own states do not cover treatment costs abroad. Minor treatments for people in the United States and the UK can be covered by the state or insurance. But no country in the world pays for insurance system implants for free. Also, aesthetic treatments are always out of scope. This is the case in Turkey
However, dental treatment prices are so affordable in Turkey that even if you pay your insurance treatment, you can be treated at less cost than your contribution. Take your treatment plan and authorization price offer from the dentist, then compare it to the price you received from us. Rest assured, the offer you receive from us will be lower than your contribution to the dental treatment you want.
We take care to use the best quality products and brands for you. Straumann brand implant treatment for a tooth and Emax crown are around $1,100 in the Turkey, while the same treatment is around $6,000 in the United States. Make sure your insurance pays a $6,000 Straumann brand implant with a crown from Emax.
We want you to achieve the best result by providing the most appropriate treatment for you.
That after private insurance companies have met very high paid treatments; necessarily reflects on you by increasing annual payment premiums.
You always get a 10% discount on cash payments for treatments in Turkey. You can also pay by credit card.
If it ends with a dishonest and unskilled Turkish dentist, there is not much application
No matter where you are in the world, there are successful and talented dentists, as well as the opposite dentists. You'll have to do a thorough investigation.
Whether in the UK or the UK, you'll lose time and money after receiving poor dental treatment. You'll also be experiencing long appointments and pain for nothing.
We see patients who have been treated incorrectly or incomplete from many countries in Turkey.
Some dentists are similarly treated poorly in Turkey, but the Turkish Dental Association and the State are taking very harsh measures and penalties, especially in these cases.
Make sure you sign a treatment protocol with the dental centre and get a warranty contract
In this way, you can seek your right in the event of a failure of your treatments; also dental centres have to be more careful about the success of your treatment.
We know that failure and success can happen in every treatment.
As doctors and dentists always say in Turkey, there are no physicians without complications. The important thing is to prevent complications. It is important to know what to do when there are complications.
Knowing this and trying to do what we do most accurately, we can guarantee our patients a 5-year treatment. In any complications or failures; the warranty that we have mutually signed with you and posted on our website applies.
You need a passport or an identity card
Turkey imposes visas to very few countries around the world. However, no matter which country you become a citizen, your ID card or passport must be with you. You can travel around the European Union without a passport, but you will surely need an ID in Turkey.
Turkey is one of the most tourist-welcoming countries in the world. So make sure; if you need a visa, your application will be approved very soon.
Turkey; Uk citizens and citizens of the European Union do not apply for visas. For U.S. citizens, visas can be issued at the Turkish border or online. If you need help with this, we'd be happy to help you.
We are happy to help you with your dental treatment and visit Turkey. I assure you, all our patients who are treated are now like family members. After your treatment, you're a member of our family.
You can contact Myra Dental Center Turkey Now ! Get Low cost new teeth in Turkey. Write us on Whatsapp now +90 543 938 3350